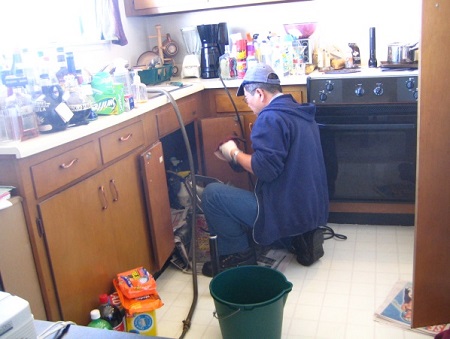 Most people think that regular plumbers can also work on gas pipes and troubleshoot any problems that they are having with their gas supply. Even though gas and water seem to flow through what may appear to be the same series of pipes the fact is that the way in which they work is totally different.
Gas systems are a lot more dangerous than water systems and so the slightest mistake can result in an explosion or a fire. This is why people who are facing a problem with their gas lines or system should hire a plumber who specializes in gas related problems.
Below we look at five things you need to be careful of when hiring a gas plumber.
The gas plumber should be licensed
There are many regular plumbers who may double as gas plumbers for certain jobs but if they are not licensed then they cannot legally touch your gas line. However, if by your consent they do attempt to fix the problem you are having with your gas lines and if things go wrong you could possibly be held accountable.
This law is prevalent in many countries around the world and at times damages can cost thousands of dollars. If you want to avoid this problem the best thing to do is to hire a gas plumber who has a license. Licensed gas plumbers are familiar with local laws and regulations regarding fixing and replacing gas related appliances. So, the chances of anything going wrong are pretty slim.
What type of certification does the plumber have?
A gas plumber needs to have a certification in gas plumbing in particular. Even regular plumbers who also specialize in gas plumbing need to have this certification. Ask the plumber to show you his certification as proof that they are qualified enough to handle most gas related repairs. This is an important step because an inexperienced or new gas plumber can end up causing damage to the lines and even to your property as a result.
Do they offer a guarantee?
Make sure that the gas plumber you hire backs his work with a guarantee. This can be a money back guarantee or it can be a satisfaction guarantee. However, the most important guarantee is the workmanship guarantee, this guarantee ensures that the work they do will last for a few years and if anything goes wrong within that time you can ask them to fix it free of cost. Plumbers that offer this type of guarantee often use the best quality materials to ensure that they are not called in anytime soon, also these plumbers have years of experience.
How do they charge?
Keep in mind the fact that the vast majority of gas plumbers will charge you by the hour. This can turn out to be pretty expensive and the costs can be hard to control since you're not sure how long the work will take. There are also some gas plumbers that will prolong the time it takes to finish the work just so that they get paid more. If you want to save yourself from this hassle hire a plumber who quotes a lump sum amount for the all the work you need done. This way you have a good idea of what it will cost and it will make it easier for you to compare what this plumber is charging to the others out there.
Use the internet to your advantage
Nowadays most gas plumbers have websites and you can contact them directly via their website. However, since they are online people who have used their service will often be discussing the service with others. Some may even complain that the service was not good. So, searching online for reviews of the plumbing service you are considering is an excellent way to find out if whom you are considering is really good. Leading plumbing services like http://www.spsplumbers.com.au actually encourage people to research them online, regardless of if its gas related work or some other type of plumbing problem that needs to be fixed.
Citations:
Mark has been a plumber for well over twenty years. He started off as a single plumber operating in Sydney and his business has now grown to encompass a number of Australian cities. He is known to train and even write extensively about plumbing in general as well as DIY articles for home owners who want to fix certain problems by them.