If you've never had internal French doors in your home before, you will be amazed at how they can transform the rooms that they connect by improving the flow of air, light and space from one to the next. A grand feature that can really add an elegant touch to your home, there are many different types of French doors depending on the size of your room and requirements.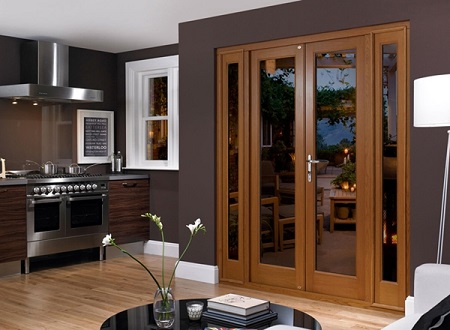 Whilst this gives you a great amount of freedom in choice, it can be difficult to work out exactly what style to get. So let's take a look at the options.
Design and Wood
When choosing internal French doors, it's important to choose a design and finish that is in keeping with the rest of the interior of your home. A good place to start is therefore to consider the wood; do you want to go for a traditional material such as oak or pine, or something more modern such as walnut? You can then move on to decide the design of the panelling and glazing.
From single glass panes to maximise the light, to more modern designs of panels and framework in the work, there is plenty of variety on the market for bespoke French doors. However some of these options can depend on whether you choose sliding or bi-fold doors instead of a standard set of double doors.
Sliding Versus Bi-Fold French Doors?
If you decide that you'd like French Doors that don't open out into the adjoining room, especially important for smaller homes with limited space, then you will want to consider choosing bi-fold or sliding doors. Although both are usually a little more expensive, the overall effect can be much tidier and will maximise the space between the rooms. However choosing between these two options requires an insight into the relative pros and cons of each.
Sliding doors are a great way to fill out wall space if you've got a particularly large house, and they are often better for privacy too. By simply sliding to open and close, you can opt for glass panes that allow the light to flow from one room to another freely when they are shut. However as most people are limited on wall space, sliding doors usually offer a much smaller space when opened than bi-fold doors. The latter fold back to maximise the doorway and visually increase the size of the room as much as possible. Although quality bi-fold doors tend to be the more expensive option, bespoke French doors of this type can be really impressive.
A great investment for any home where you want to improve the flow between rooms and create a real feature for your living room, hallway or dining room, interior French doors can look fantastic if you choose the perfect match. From varieties of wood and glass panelling to impressive bi-fold doors, upgrading your doors to bespoke double doorways can provide long-lasting results and a focal point of your home.
Article written by Kelly Gilmour-Grassam who with information provided by Emerald Doors tells us how we can choose french doors.