A motorhome is like taking your house away with you on holiday. Well, not s like a home away from home. It combines all the comforts while on the road, keeping it in good condition takes a lot of work. If it is properly maintained, a motorhome can last a good couple of years and can provide some good lasting memories.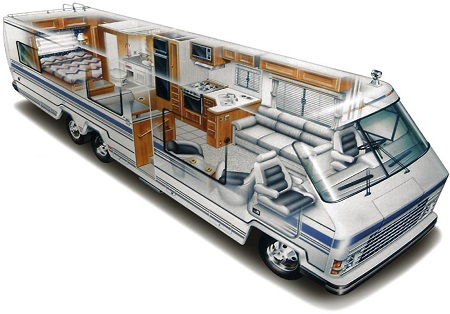 While there are some care valet companies who will give your motorhome a good service, you can manage this yourself and it adds that personal touch if you. Like building your own car, maintaining your motorhome can be like taking care of your house.
Outside
The exterior of the vehicle is just as important as the interior and engine. It should be expected on a regular basis and especially after it has been used. Inspect it from top to bottom for any cracks or sun damage. Driving your motorhome builds up a lot of dust and grime, so give it a thorough wash using a mild soap and avoid abrasive soaps that may damage the paint. Use an automotive wax to protect the paint and keep it clean. Asses the sealants to 250 for a professional job.
Rust can affect the underside of the vehicle and a build-up of it can lead to road hazards if left unchecked. Use a rust proofing product on the chassis to prevent a build-up.
The tyres should also maintain the right amount of pressure. To see how much pressure they need, check the tyres and use a pressure gauge to check the status. Always carry a spare tyre in the event of one blowing out while driving.
The engine is extremely important. Keep the motor oil topped up and carry a few spare litres in case you run out. Other checks should include seeing if the filter is clogged and make sure the engine drive belt is not worn. You should also check the batteries and monitor them to protect them from corrosion or going flat. As we mentioned before, carry spare fluid or a spare battery in t want a nice holiday ruined by a faulty engine!
Inside
The interior should be as clean as your own home. A motorhome should be s a small space and constant use of the shower and cooker will cause a build-up. Keep the roof vent open and switch on the bathroom fan.
A 12 Volt charger connected to the alternator should keep your fridge running while driving, until you get to a camper park. A good idea to keep all the electrics properly running in your motorhome is to install a solar panel. Not only is it environmentally friendly, but keeps the battery charged in the absence of an electrical outlet.
Regularly maintain and refresh the vans water supply, especially if the van has not been used in a while. Water does go stale, so keeping it constantly refreshed prevents that.
Use a power house to clean the shower drains from residue and the sink drain should be cleaned every six to eight weeks.
For further information, please click here.
By Harry Price
Harry Price is a free-lance writer and personal trainer. He enjoys guest blogging and travelling the country.