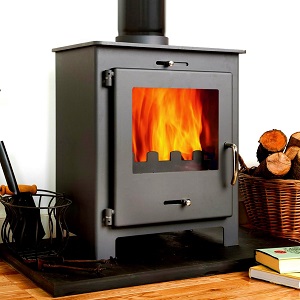 When looking for home heating appliances, stoves are a great choice. Wood burning and multi-fuel stoves in particular make use of biomass fuels such as logs, wood pellets, and peat briquettes. Seasoned wood along with the other mentioned fuels are smokeless and produce low carbon emissions.
Stoves that use these fuels are also economical as they can replace electric heaters to reduce your power bill. But, you need to know how to choose the best stoves in order to take full advantage of these benefits. With that in mind, here are the most important factors to consider when shopping for a wood burning or multi-fuel stove.
Heat Output
A common misconception with home heating stoves is that, the bigger they are the better. However, these stoves are designed to heat different sized rooms. The last thing you want to experience is purchasing a huge stove that turns your home into a furnace. To avoid this scenario it is important to know the ideal stove for your particular situation.
In most cases, manufactures of wood and multi-fuel stoves specify heat output ratings in KW (Kilowatts) per cubic meter. By measuring the room where you wish to install your stove, you can choose one that emits the ideal heat to keep your living space warm.
Heat Efficiency Ratting
Log burners and multi-fuel stoves have varying thermal efficiency rates. The heat efficiency for these stoves is calculated by how well they transfer heat from the fuel to the surroundings. If want your stove to warm up your living space quickly and consistently, then ensure to buy one that has a high heat efficiency rating. Efficiency ratings for stoves are usually expressed as a percentage. The higher the figure, the more efficient the stove is at distributing useful heat to the living space surrounding it.
Hearth Requirements
A hearth is basically a non-combustible material that protects the floor upon which a wood or multi-fuel stove stands. This is a vital requirement when installing inset stoves (or stoves that sit on a hearth). It is important to meet the minimum hearth requirements for your stove. This simply involves installing a heart that is the ideal thickness for your situation. Whether your stove runs with the doors open or closed, as well as the type of floor installed in your home are some of the factors that will determine the ideal hearth thickness you should install. You can always find this information from your stove manufacturer.
Certification
It is important to buy certified wood and multi-fuel stoves. Such stoves meet industry standards and are usually of high quality. Defra-approved stoves are a necessary requirement for people who live in a smoke controlled area and want to use a wood-burning stove. These stoves mitigate the health and environmental impact of chimney smoke in highly populated areas.
For those who do not want to use wood burning stoves in smoke controlled areas, multi-fuel stoves would be a great alternative but they are only permitted when burning smokeless flues in such zones. For the best wood or multi-fuel stoves, be on the lookout for HETAS approved retailers.
When shopping for certified stoves to heat your home, remember to check efficiency ratings, heat output and hearth requirements. These are the most important factors to consider when looking for a multi-fuel or wood burning stove.
Scott Thomson, a marketing support consultant for home heating appliances, wrote this article. He loves to help homeowners stay up-to-date with the latest trends for home heating appliances. Scott invites you to visit this website and learn more about wood burning and multi-fuel stoves.