Don't let any IT issues disrupt your business growth
Many business owners presume that their company is most vulnerable in periods of stagnation when there is no growth. However, in reality, your company is much more vulnerable when it is expanding, as this is the time when your business infrastructure must also expand in concert.
You may need additional hardware, new software or extra IT staff to help keep your company running smoothly and efficiently as it acquires new clients and embarks on new projects.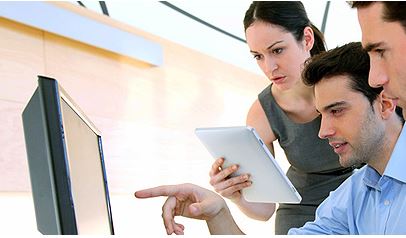 Train your team to become more 'IT savvy'
While the overwhelming majority of people in the UK use the internet and have basic IT skills, some employees may still be unfamiliar with programmes like Microsoft Excel or PowerPoint.
Do you have time to train your employees to use your IT programmes?
Many companies also use more specialist programmes or applications that require comprehensive training, but sometimes you may not have time to conduct all of this training yourself. By hiring an IT specialist, even on a temporary basis, you don't have to encounter any disruption or reduce your productivity when training new employees.
Become more cost-efficient
Unless you have adequate IT knowledge and support, you may end up wasting money on products and services that you either don't need or are no longer up-to-date. Fortunately, IT specialists will only give you the best advice on what software to use, because they know that building a good reputation for themselves is the key to getting another phone call from you when you need their help again in the future.
Don't gamble with out-of-date software
By ensuring that all of your software and anti-virus protection is up-to-date, you greatly minimise the risk of system down-time or other severe disruption that could end up costing you a significant amount of money.
Show your clients you care
If you're not investing in IT support for your business, you're exposing it to danger. That means you're also endangering your client's businesses, especially if they have given you confidential data. Imagine the financial implications of having to spend thousands of pounds on legal fees if you were sued for negligence because your clients' data was hacked and stolen by cyber-criminals on a computer that was not protected by up-to-date anti-virus software.
Build trust – let you clients know their data is in safe hands
The more your clients trust you with their data, the more likely you are to receive further work opportunities from them in the future. When collaborating on projects with other companies, protecting confidential data will be your clients' number one priority. Any weakness in your IT system – be it a corrupt file, an expired anti-virus programme, or an e-mail platform with no automatic junk filter – increases the risk of a data breach. IT specialists can identify these weaknesses and eliminate them.
Protecting your business is also about looking out for others
Keep in mind that your clients have just as much of an obligation to protect your data too. If they can find the time to invest in the right level of IT support and anti-virus protection, so should you. The best way to help your business flourish and win new projects is to take preventative measures: minimise the risk of system failures, data loss and clients screaming down the phone. Think of IT support as an insurance for your business – a relatively small ongoing investment can go a long way to preventing catastrophic financial loss.
Damian Coates is the Commercial Accounts Director for Utilize, an IT support company which provides tailored IT solutions to businesses across Essex, London, Kent and the Home Counties.