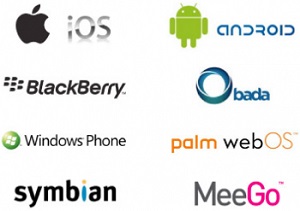 The number of consumer based and mobile enterprise apps keeps increasing with each passing day. App stores are now packed with millions of mobile applications that solve anything you can think of. More and more people are embracing the mobile era, where the convenience of accessing information on the go is highly treasured. This explains the reason why apps have become so popular.
Perhaps you have a great app idea or want to get make your business felt on the mobile space. Regardless of the reason why you would want to create an app, one important decision to make is what platform to build it on.
Mobile platforms are simply the operating system that handheld devices run on. Examples include Android, iOS, Windows Mobile, Black Berry, Symbian, Sun J2ME, Qualcomm, just to name a few. If you choose to create a native app, choosing a platform will be inevitable. It is important to know how to choose the right mobile platform that will give your app a fighting chance in today's competitive marketplace. With that in mind, here are the top 3 factors to consider.
Define the Target Audience
When it comes to choosing the right mobile platform before developing an app, it is important to define the target audience. Think about what devices your prospective clients use. For instance, studies have shown that the corporate world is more inclined to using Black Berry devices, which are designed with business users in mind.
On the other hand, you should go for poplar mobile platforms like Android and iOS if most of your target users will comprise of the mass market. By knowing which types of devices your target audience uses, you will be one-step closer towards choosing the right platform for your app.
Identify What Features You Want to Include in the App
While doing some research on various mobile operating systems, you will find that some platforms have a significant advantage over others in certain respects. For instance, palm OS would be a better platform for complex applications that quietly run in the background and help users to perform even the most minute task than iOS that is more inclined to basic users.
In comparison, Maemo provides more impressive graphics compared to Windows Mobile. These are just a few case comparisons. Keep in mind that app development requirements differ. Therefore, make sure to create an outline of the features that you need and then research which platforms would best support functions of your mobile application.
Consider Future Prospects
Before choosing any platform, ask yourself, will it survive tomorrow? You can do some research to find out how different mobile platforms stack up against each other in terms of market share.
The mobile app landscape is growing and evolving each day. We have seen newcomers enter the mobile app industry and surpass market players that were once dominant. For instance, Microsoft and Blackberry, which were deemed to be some of the leading players in mobile technology a few years ago, now seem to be losing market share to relatively new mobile platforms such as Android and Apple's iOS. It is therefore important to consider long-term prospects of the mobile platform you wish to build your application on.
In conclusion, always remember that your target audience, app features and market outlook all play a role in determining which mobile platform you should choose for your app. It may also be a wise thing to book a free consultation with an app development firm and get more advice on what platform would be best for the type of app you wish to develop.
Milly Hill, a business consultant based in Edinburgh, wrote this article. She is also a blogger who has a love for sharing useful information related to technology and business. Milly invites you to visit this website and learn more about mobile app development.