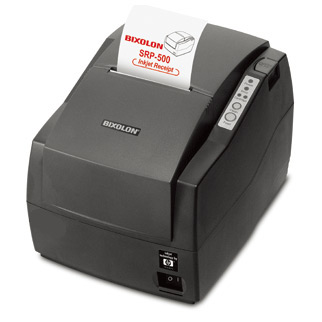 It is a common practice to print receipts for customers after completing a business transaction. A receipt usually indicates the ordered items and/or service, amount paid and any change returned to the customer if any. Many businesses require customers to produce a receipt when claiming for refunds.
Copies of these documents can also help verify sales transactions in case of discrepancies, hence their importance in business. In order to generate receipts, most businesses use a printer. There are different kinds of receipt printers in the market, including ink-jet, dot matrix, impact, and thermal.
Here is what you need to know about these printers before purchasing one for your business.
Ink-Jet Receipt Printers
Ink-jet printers operate using ink and ribbons. Many businesses opt out on choosing ink-jet printers for various reasons. For starters, these printers can be slow. They require a lot of maintenance since ink cartridges need replacement. In addition, build up of excess ink causes smudging on the paper. However, ink-jet printers can produce printouts in many different colors. They are ideal for businesses that require bright colored logos or receipts that last for a long period.
Dot Matrix Printers
The advantage of dot matrix receipt printers is that they can print more than one copy at the same time. This is ideal for businesses that require copies of their receipts. For instance, restaurants find these types of printers a useful addition to their point of sale systems, which have to produce receipts for food orders at the kitchen and point of sale. As such, when carbon copies of receipts are required, dot matrix printers would be a wise choice.
Impact Receipt Printers
These types of printers use microcapsules of ink, which burst open upon impact on the printing paper, hence the name impact printers. The downside with this technology is that it can be rather noisy. For this reason as well as slower printing speeds, most businesses opt out on choosing impact receipt printers.
Thermal Receipt Printers
These are the most preferred receipt printers for their high operating speeds. Thermal receipt printers do not use ink or ribbons when performing printing tasks. Instead, they use special, chemically treated thermal paper, which is heated to reveal print marks.
Many retail stores that handle numerous transactions prefer thermal printers. Much of this has to do with the fast printing speed that these printers provider. However, the images on thermal printers fade quickly, especially when exposed to long periods of sunlight.
As you can see, receipt printers are not the same. They have their own pros and cons depending on the mode of operation that they support. You will also find that some printers can easily integrate into a point of sale system while others are simply not compatible. That is the reason why retail software developers are very specific about the types of printers that work with their systems. In light of these factors, it is important to take time before choosing a receipt printer and choose one that is ideal for your business.
Jack Sparrow loves all things business and technology. He is also a blogger who has a penchant for sharing useful news related to IT and business. Jack invites you to click here to check out receipt printers that easily integrate with mobile point of sale systems.