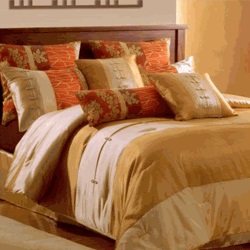 Changing your bedroom with the seasons is a great way to keep a crisp, welcoming appeal to the room; while avoiding the dreaded home interior decorating fear of drab and boring. Here are some tips for four seasons of fresh.
Summer
Summertime is a bright, sunny season and color options are limitless. You may choose to incorporate yellows to give your room a warm, sunshine feel; or perhaps you prefer to cater your décor to accommodate carrying a summery theme.
Nothing expresses summertime like a California, sunshine state allure. A palm tree curtain with a matching bed in a bag set, will create that Californian or Floridian appeal. Hints of orange can be used in your décor through picture frames, candle holders and even decorative throw pillows; however don't overuse the color unless you are going for a 1970's retro makeover!
Autumn
Fall, is when nature sheds its beautiful colors in preparation for the winter ahead. There are shades of orange, red, yellow and browns falling off the trees. The holidays are coming and pumpkins and squash are in season. Finding autumn colored bedding in a damask comforter adds warmth to the bedroom. Incorporate specks of gold in your rooms décor, to add a more prestige feeling.
You may opt to utilize pumpkins, squash and leaves as focal points on say a bedside table or vanity dresser to add a holiday allure to your setting. Choose candle scents such as: pumpkin spice, vanilla cupcake and cinnamon to not only utilize fall colors, but to create that fall appeal with your sense of smell, as well.
Winter
Christmas is a big part of the winter season. You may opt to Tis the Season with a red and green Christmas bedroom décor. In fact, shopping holiday clearance will save you loads of money on this seasons décor.
However, if you are looking to carry a more subtle winter theme throughout the bedroom; blues and browns pair nicely for winter. Ice colored blues, give that frozen allure. Add white, sparkly accents to incorporate and icicle addition. You can find these accents with snowflake ornaments to be used as wall hangings. Also, hang white Christmas lights, or even icicle lights to add a winter illumination to your rooms decorum.
Spring
Spring is the season of rejuvenation and all things in bloom. Floral prints and fresh bouquets are spot on, in creating that spring allure to the bedroom. If floral prints are too busy you may opt to select a green or purple duvet cover as a color base and add more subtle floral hints throughout the décor.
Decorative throw pillows, a throw blanket or a window valance can all ways to incorporate spring flowers. Lavender candles add splashes of pastel purple throughout your room and lavender is one of the most popular candle scents to burn. In fact, lavender has been linked to better sleep, so what better place to burn that scent than in your bedroom?
Giving your bedroom a makeover with each season is fun, fresh and a great way to keep the romance alive in the bedroom.
+Paul Reichman   offers an impressive variety of decor for all your homes room decorating needs at Bedbathstore.com