Most children are fascinated by technology, making tablets on of their favorite things to play with. There are many tablets on the market that are suitable for children while other tablets are specifically designed for children. We will look at several that are among the best learning tablets for kids.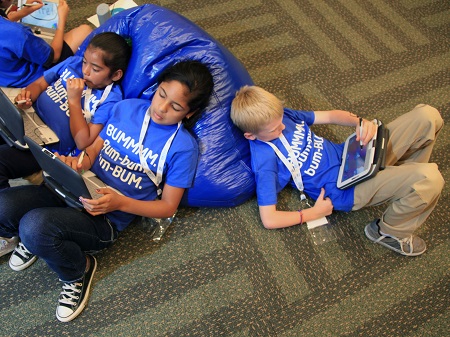 There are several things to consider when shopping for a kid friendly tablet. Children are usually rough with their toys, making durability one of the most important factors to consider. Screen size is also important, with five to seven inches being best suited for children. Anything larger may be too large for their small hands to handle.
The availability of learning apps varies between tablet manufacturers. An Android tablet will have the entire collection of Android apps available. Companies like LeapFrog and Vtech will be limited to apps written for their specific platform.
The LeapPad

The LeapPad Ultra from LeapFrog is their top tablet for kids. It has a seven inch high resolution touch screen, giving it the feel of regular tablet. It also has dual two megapixel cameras, built in Wi-Fi and an 800 MHz processor. It is also designed to withstand drops, making it kid friendly. It comes preloaded with eleven apps and has more than 800 more apps available for download. Kids can also access the internet through a kid safe web browser. The LeapPad Ultra costs $150 and comes with 8 GB of internal storage.
The Nabi 2
The Nabi 2 is another tablet designed specifically for kids ages 5 to 9. It has a seven inch screen and a two megapixel camera. It also comes with 8 GB of internal storage and is built to withstand kid's rough play. The Nabi App Zone provides access to kid friendly apps that can be downloaded through the built in Wi-Fi.  Since it runs the Android operating system, parents can load additional apps from the Google Play Store.
The Samsung Galaxy Tab 3 Kids Version
The Samsung Galaxy Tab 3 Kids is Samsung's version of a children's tablet that is based on the Samsung Galaxy Tab 3. It costs $230, which is a little higher than most children's tablets. It does have some impressive technical specifications which may justify the higher cost. It has a dual core processor, built in Wi-Fi, 8 GB of internal storage, one 3 megapixel camera on the rear, and a front facing 1.3 megapixel camera. It has a durable design that will withstand drops and rough play.
The Kindle Fire HD
The Kindle Fire HD is not child's tablet, but does come with many features for children. Consider purchasing a cover or case for this tablet since it is not designed for rough play and will not be able to handle drops. The Kindle FreeTime subscription offers unlimited access to a large selection of books, movies, music and television shows for $4.99 per month. There are also many learning apps available for this tablet. It costs $140 and comes equipped with built in Wi-Fi, a dual core processor, and a seven inch screen. It does not have a camera, which is something to consider.
Laura Greening is a mom and a parenting blogger. She loves to write about parenting and kids education. She is currently working as a consultant Wallao, a flower girl dress store, based in Los Angeles, CA.