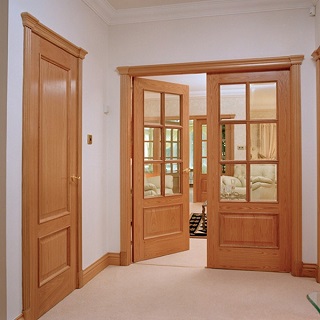 First impressions count. So when you decorate your home, you're of course going to spend a lot of time trying to get the walls, floors and furniture looking spot on. But considering the fact that the door is the first thing that people see when entering a room, you don't want an internal door to let you down when it comes to making an impression.
Whether your old doors are looking a little shabby, or you want to find something that is a little more in-keeping with your home, new interior doors is a great investment that is sure to out-last your sofa or carpets. So let's go through the things to consider and how to choose.
The Perfect Fit
Most modern houses are just given standard door fittings, making it quick and easy to upgrade the internal doors between rooms. Standard doors are 78 inches high, and vary between 24 and 33 inches in width. The depth is usually 44mm. Meanwhile French doors usually have a width of 36 to 60 inches, with a depth of 40mm.
If your doors fit these size brackets, then you'll probably be able to order internal doors online and receive a pre-made door of your favourite design in just a few days. However for older homes in particular, many frames do not fit this model. In this case, you'll need to find a company that offers bespoke custom-built doors instead, to design an internal door that's the right size and look for your property.
Choosing the Design
There are so many ways that you can make your internal doors unique, from the design of the panelling, to the wood that you use. To begin with, it's a good idea to choose the wood that would most suit the rest of your furniture in the house. Obviously, not everyone has such a clear-cut theme throughout their house, but if you do have predominantly pine furniture for example, then walnut doors may look a little out of place. So try to bear this in mind when choosing your doors.
The next decision focuses on the design of the door. Today there is so much more choice available than your standard 4 panelled door, although these remain very popular. Glazed windows are a bespoke look that can really give your design some character; whether you go for vertical glazed panels or choose for a window look on the top, you can easily make your doors unique.
Finally, you need to choose a door knob or lever handle to complete your design. If you're going for metal, again try to be in-keeping with the rest of the room or house. Alternatively, go for a patterned glass door knob that can really add some class to your design.
As a fantastic way to update your home with a little personal charm and design, internal doors are a great investment when redecorating your home. With so much choice on the design, make and finishes of internal doors, you can custom-make the perfect look for your room.
Article by Kelly Gilmour-Grassam, a freelance copywriter who often writes for Emerald Doors.