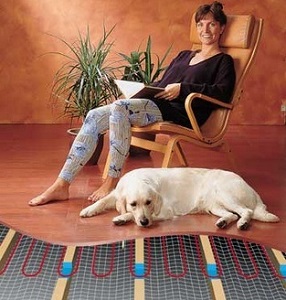 We're all aware of the headline ways to add value to your home and improve its appearance. Every single home improvement programme on TV advocates focusing on kitchens, bathrooms and gardens as primary areas for homeowners to devote their time, energy and money to.
However, many less obvious ways to enhance the look and feel of your home exist too, at a fraction of the cost of ripping out a whole room.
Many homeowners become frustrated with the space that traditional radiators take up on walls, especially in newer properties – many of which are smaller than older homes.
When space is at a premium, radiators just aren't always the most practical solution! Unsightly pipes and old paintwork are a couple of other common bones of contention. But there's a simple and affordable solution!
Under floor heating has traditionally been viewed as a luxury product, but with its increasing popularity has come better supply and an expanded range of affordable product options. And with many retailers now offering under floor heating, prices are coming down all the time as they compete with each other. Great news for home owners!
Tiled floors can frequently be cold and feel draughty, making a room difficult to keep warm. Under floor heating eradicates all of these problems. The benefits don't stop there, though. Whether you have carpet, wood, vinyl or tiled floor, under floor heating can add a real wow factor to your home.
When the time comes to sell your home, the standards buyers expect are high. Having systems installed which are perceived as luxury and have made substantial improvements to the style and comfort of your home could make a big difference in both the value of your home and getting that all-important quick sale.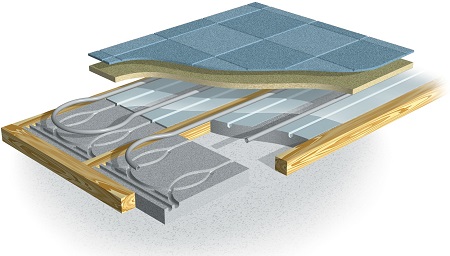 Another benefit of under floor heating is energy efficiency. Having the heat spread out across the whole room is more energy efficient than using one radiator to heat the entire space. Again, appealing to existing homeowners looking for ways to save on their energy bills and also an attractive feature to hone buyers who want to know about running costs.
Under floor heating is also increasing in popularity with property developers who are installing it in new homes. Given its energy efficiency and the fact that it works well in conjunction with renewable energy systems such as solar, it seems that under floor heating is going to be seen in many more homes in the years to come.
It doesn't have to be the preserve of the rich and luxury standard homes. It can be easily installed retrospectively to many homes and some systems are comparably affordable to traditional radiator central heating systems. For example, there are electric systems that can be installed under tiled or hard floors that run off the normal electric mains. You have to consider the cost of flooring, so it may be wise to do a project like this when you are replacing your flooring. Ask your local flooring or building contractor, or search online for underfloor heating systems.
Tim Tavender is a writer with many years experience writing online articles, blogs and press releases. This article was written with the help of Mills Build in London –