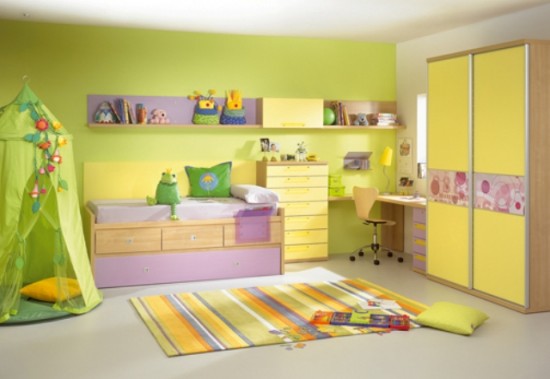 The Challenge:
Designing a children's room. Well-designed spaces have the ability to keep your children safe as well as enhance the way they learn to take care of their own things. Good design can strengthen families by creating easier living situations and reducing conflict over personal and shared spaces. Children's rooms can be messy, cluttered, and over supplied, leading to a dysfunctional space.
Improper storage or an overall lack of organization can make clutter worse, and it's hard to keep up with the rapid pace at which your children grow. Constantly changing their rooms can be expensive and time consuming, and you're not sure exactly what they need at each age!
The Solution:
To gain a fresh look at the space, get rid of clutter by cleaning the room of unused or unnecessary items. You can store belongings away for later use, give them away, or sell them. Children do not need an excess amount of toys to play with at once. There are many storage options for toys and items that you have decided to keep in your child's room. Instead of using large toy boxes that become a junk heap of lost and broken items, consider bookcases and plastic bins. Help your child learn where each item is to be put away when he or she is done using it.
It is also possible for a room's design to have the ability to grow with a child. Using removable wallpaper, pictures, bookends, or lampshades to express a theme can be easily taken down and inexpensively changed when your child outgrows them. When purchasing furniture, keep in mind multipurpose potential for when your child gets older. When it comes to needs at certain ages, infants and toddlers need safe spaces to explore and interesting things to look at. Safety is the most important criteria at this age.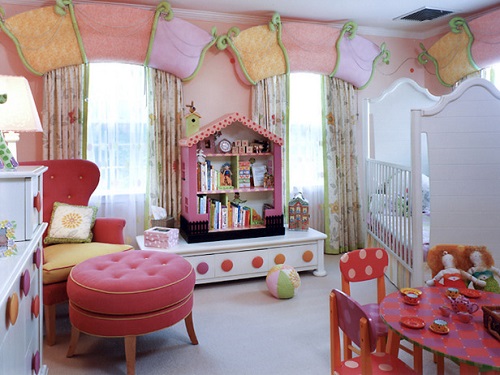 Floors should be clean and warm for crawling and walking, while leaving as much floor space as possible for playing. Sturdy furniture is a good idea to incorporate for them to use while pulling themselves up and for them to hold on to. Good room design can help preschoolers make good decisions and learn to care for themselves and their room. Size and scale is very important, so keep that in mind when hanging pictures, mirrors, closet rods, and clothes hooks at their height and eye level.
As children reach elementary age they may need space to hang artwork they have created or a place to display a collection they have started. Choose accessories in their favorite color rather than more permanent options like paint or draperies. Provide a space for reading and studying away from the TV to promote good study skills. Teenagers need privacy, a space of their own with a feeling of ownership, and a place to be with friends. They often like to choose how to decorate to reflect their tastes and needs.
Provide them with an acceptable way to hang things or decorate the way they would prefer to. Teens can develop a sense of pride, independence, and responsibility when they are allowed to make decisions about their room. Providing a full-length mirror, vanity, and storage for their products can also free up some time in the bathroom for the rest of the family in the mornings.
There is more than one correct way to design spaces for children, but taking into account the needs of each child and available resources can aid families in encouraging desired behaviors, learning, skill development, responsibility, and prevent potential conflicts.
Ron Nathan, founder and President of Ron Nathan Interior Design Group, is an innovative and accomplished interior designer. Based in New Jersey, Ron has overseen projects across the country as well as abroad. When he is not in the design studio, Ron enjoys travel, golf and music.