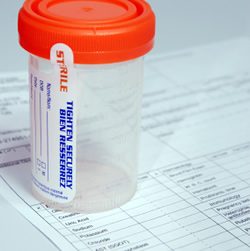 It would appear the Great Recession has hit it's low point and companies have began to hire once again slowly. As those presently in the job market can attest, it's still a very tough place to be as the amount of job seekers far outnumbers quality job openings.
With so few internet hits on your resume, and even fewer requests to interview, it would be a shame to navigate your way through the entire hiring process and hit a roadblock when it comes time for a pre-employment drug screening. It is astounding how many are blindsided when they're made aware by the HR manager that the job offer is conditional upon passing a drug test.
So for the few who weren't aware a pre-employment drug test was possible you should know it's estimated that 98% of Fortune 200 companies implement such tests during their hiring process. It's also reported that over half of all new hires are required to take a drug test for employment purposes.
Is Testing Legal?
The short answer to the question of whether testing is legal is yes in all 50 states. While the specific laws dealing with drug testing is unique to each state, most state require the company disclose that testing is part of the hiring process for all applicants. Some states also require that a conditional job offer be extended before requesting a drug screening. For more information you can go to your local employment office or find related literature on their website.
What Testing Can You Expect?
It has been upheld by the U.S. Supreme Court that any pre-employment drug screening be minimally intrusive. For most companies, minimally intrusive applies to both blood and urine testing. You can expect at a minimum one of these types of tests provided they take place in the proper environment. While a urinalysis test may take place on site for many companies, some may outsource this task to a workplace clinic. You generally have the right to provide a urine sample without direct observation by the tester to uphold your right to privacy.
In some industries where there is a concern for tampering, the employer may be allowed to have one person of same sex present for the test. Both urinalysis and blood screening are implemented to test for the presence of illegal substances in the body such as narcotics, barbiturates, etc. If the position requires you to drive a company vehicle, a breathalyzer test may also be required for insurance purposes.
The hope is that as an applicant won't show up with a drop of alcohol in their system. However, you might be surprised to know just how many people have alcohol from the previous night still in their system. May be a better idea to wait and celebrate that new job until after the test.
What About the Legal Medication You Take?
Before the test takes place you will be almost universally be asked to fill out a form documenting any medication you take. It is best to list everything you take whether it's prescription medication or over the counter items such as ibuprofen or ephedrine based products. Providing a complete list will help in the event traces of these medications lead to a preliminary non-negative test.
Having that info readily available will make ruling out any non-illegal substances quicker in subsequent testing. If you are taking prescribed medication, it may be wise to bring a written prescription with you to the testing center.
For almost all applicants, any mandated pre-employment drug test is nothing to be concerned with. You may already have the conditional offer in hand so you are excited at seeing the light at the end of the tunnel in the job market. Hopefully having a better idea of what to expect will alleviate any concerns and you can instead focus on more important matters like how much money you'll be making or when do you start!
Amit Gangrade is from Orlando, Florida. He is a recent alumn from the University of Florida, where he studied anthropology and Spanish, and will be attending law school at Emory University in the fall of 2014. In the meantime, Amit is a professional writer and blogger for WorkFlow Orlando.