Just as fashion trends change as the years go by, so do interior design trends. In fact, you could argue that the way in which the inside of your house or apartment is decorated says just as much, if not more about you, than what you decide to wear out on the town!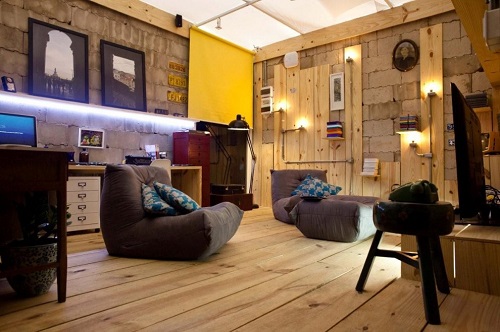 At Emerald Doors (which I work for), we're not just about the opening and closing of doors – we're about that subtle bit of characters that a good door can add to your home! So with that, here's a quick look into some of the interior design trends of Summer 2014.
1. Vintage
We're hearing the word "hipster" thrown around a lot lately, referring to the stereotypical, bearded-and-bespectacled graphic artist or creative marketer, often living in a spacious city-centre studio flat. The word often has negative connotations, which is a shame, since we have a lot to thank these guys for! Not only do they present a rebellion against Hollywood and the media dictating what is and isn't "cool", but because of them, we can now buy cheap stuff from the charity shop without feeling ashamed!
Now, of course we're not suggesting that you go down to the local Oxfam and buy a weird painting of a dog hunting a fox – but it does mean that if you go down to the car-boot sale and see a bit of a guilty-pleasure bit of old tat, you can certainly repurpose it to give your room that edgy, 2010s vibe!
2. Bright, primary colours!
Are you seeing a pattern here with things that were once considered really uncool? Well, guess what, colour is back – and this is certainly something to be thankful for! People are finally sick of the ultra-safe cream-and-beige designs of the previous decade, and are starting to throw splashes of colour onto a single wall, and introduce bright, primary-coloured IKEA furniture to stand out from the cream carpet! Bring out your creative side and get those colours clashing!
3. Modern-classic
On the subject of clashing, and going back to the "vintage" revival – what we're seeing increasingly now in living rooms across the country is a great generational clash of items of furniture not limited by the segregation of time!
Now we're not saying that your living room should look like that ident from Dave TV with that zebra-print wallpaper, but there's definitely room for you to, once again, bring out your creative side! Been hiding a keepsake grandfather clock? Is there a dusty, old ebony wardrobe that you just can't seem to shift? Get it out, scatter some beanbag chairs around it, and embrace the future!
4. The Return of Velvet
Here's a bit of controversy for you. Velvet. To some it screams "tacky Channel 4 talk show", but to others it implies royalty. But, love it or hate it, velvet is making a big comeback into 2014 living rooms – and it ticks all of the above boxes! It's both vintage and modern-classic, and it comes in a whole host of bright, primary colours! Also, there's absolutely no denying the comfort of a velvet settee
So, there are our tips for getting your living room ready for 2014! Try not to over-tackify it, and remember to think colour! Happy decorating!.
Article by Arran Garside, who knows all about the colour wheel and what is hot and what's not for the home. He often writes for Emerald Doors.