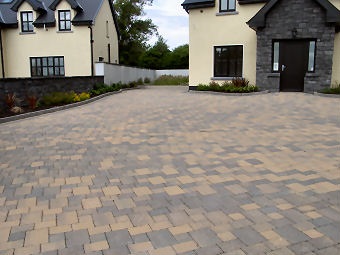 Remove all weeds, no matter how small
Weeds are the biggest threat to block paving; not only are they unsightly, their roots can also erode your paving and create gaps.
Don't let weeds rule your driveway
The best technique for removing weeds is to apply a potent weed killer, making sure you treat every section of your drive and your lawn to ensure all of them have been killed. Once they are out of control, weeds can be very difficult to remove and can quickly spread to your neighbours' driveways and gardens.
Get someone to check on your driveway if you're away for long periods of time
If you have plans to be away from your home for several months, consider asking a neighbour, friend or relative to check your driveway and remove any weed growth. One common cause of excessive weed growth is being away from home during the spring and summer months, when, without treatment, weeds can easily multiply and become an infestation in your garden.
Then prevent any further weed growth
The best time to apply weed-killing products is during the spring and summer, when the temperature becomes warm enough for seeds to begin sprouting. Two of the most popular products for preventing weed growth include Amilitox and Glyphosate, which can be used every six months and will help stop any organic matter from growing in your block paving.
Monitor it regularly to check for any weathering
Weathering can be caused by various factors such as heavy rain, severe cold spells, hail, or even periods of prolonged hot, dry weather (however rare in the UK!). Freeze-thaw weathering, when water between blocks freezes, expands and erodes the material, can be a major problem in the UK climate and is also what causes pipes to burst. However, when your block paving is adequately sealed, no water should be able to enter any gaps, which will prevent any erosion from occurring in the future.
Check for any unevenness
Over time, block paving can gradually sink, which occurs when sand beneath the driveway is washed away. Every few months, check to make sure that the surface is still even; if you begin to observe any signs of sinking, contact a block paving specialist to inspect the problem.
A simple grit sand application is all it takes to bring your paving back to perfection
Repairing sunken block paving can be a relatively simple procedure, as long as it is not severe. Professionals use grit sand to relay block paving, as this is firmer and more resilient to the elements compared to building sand, and promotes better drainage.
The earlier you identify a problem, the easier it will be to fix
If you choose to ignore a problem like weed growth or unevenness, it will only escalate out of control and become a much more costly and time-consuming job to repair in the end. The earlier you identify these problems, the cheaper and quicker it will be to fix them. With practically no effort at all, you can make sure your block paved driveway looks just as immaculate as it was the day it was built.
Neil Hodges is the Director for Block Paving Maintenance based in Witham, Essex with over 25 years of experience in the industry the team pride themselves on their workmanship.