Setting up a Flash website is an excellent way to showcase your artworks or promote a new product/service. Though Flash technologies are clearly not the best option from an SEO standpoint, they are used by many established brands to support various temporary promo actions and also create attention-grabbing landing pages.
As Google seems to dig deeper into Flash these days, more and more aspiring freelancers and business owners start introducing Flash elements into their blogs and portfolios.
While creating a Flash website from scratch can be a very time- and resource-consuming undertaking, using a Flash-based site template can significantly reduce your project costs. Pre-made templates require the user to do very little (if any) coding and are, in fact, 80%-ready websites. As a rule, it takes no more than three easy steps to design and publish a Flash-based website (in case you opt for a website builder):
Step 1. Pick a Template
First off, you need to find a template provider specializing in Flash themes, like MotoCMS for instance. It has over 2,000 Flash and HTML themes to choose from. On their website you can see live demo of each template and also try it free during a 30-day trial without having to download and install any software.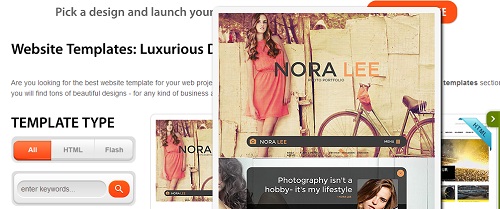 Once you have picked the most appropriate template, purchase it to get the MotoCMS license as well as their professional assistance and system updates in the future.
Step 2. Upload It to the Server
Now that the template is purchased, it's yours to edit. In order to start customizing your almost ready website, you need to upload the purchased template to the server of your choice. As opposed to most website builders which run exclusively on the company servers, MotoCMS templates work well regardless of the hosting provider.
Step 3. Customize It
Now you can make changes to the design and upload your content. Thanks to the What-You-See-Is-What-You-Get editing environment provided by MotoCMS, template customization is dead simple: just select, drag and drop the needed object or widget anywhere on the page.
Each MotoCMS template comes equipped with a set of ready-to-use widgets that can be enabled anytime with a single click (there's no need to shop around for third-party plugins and install them manually). These include: Google Maps, Share Button, Music Player, RSS Reader, Rich Content Block, Advanced Contact Form, Buy Now button and more.

Once you have added the finishing touches, share your website with the world by clicking the Publish button in your control panel. MotoCMS devs say that all Flash sites built using their templates have two versions: one for the search engines (HTML version), another – for users (effects-rich Flash version). In other words, your website content should be entirely indexed.
Website builders like MotoCMS are a brilliant alternative to hiring a designer or building a website from scratch independently. They liberate business owners, freelancers and bloggers from many headaches associated with site creation. So, if you don't think that using a templates is cheating, website builders might be just what you need.
Malcolm Thomas tests and compares Do-It-Yourself website builders. He's the owner of http://mmthomasblog.com/, a website providing aspiring webmasters with expert reviews of website building software.