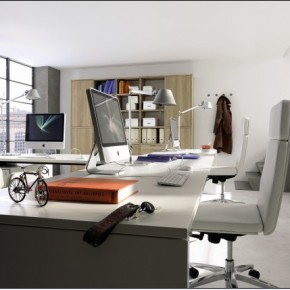 Opening a new office is a great time to review your current systems and processes. You'll also want to make sure your new office is well equipped and ready for action. Yet whether you're expanding or starting a whole new business, there are four main office essentials you shouldn't be without.
Effective Communications
Technology is advanced to the extent that your office communications could be managed with a telephone line and computer system, as email and mobile phones are so easily used. However, if you have over ten employees, you would also benefit from an internal phone system, which can help you improve efficiency and productivity.
Internal phone systems can be invaluable for companies who are hard pushed for time. Virtual assistants can pick up calls whilst your team are busy, and internal call buttons will save time running around trying to find the correct person to take a call. You can also install internal phone systems linked to your CMS system which will save time finding customer information. VOIP systems are also worth thinking about if your business deals with a lot of international calls. The cost of overseas calling is negligible, and conference calls can be easily set up.
IT Equipment
No matter what your business is, you're not going to get very far without IT equipment. Ultimately though, as long as you have computer equipment, the main consideration is the type of software you're using. If you don't have the right systems in place, then you're going to find it very difficult to manage your workload. Increasingly however, cloud based systems such as Google Apps for Business are replacing traditional Microsoft packages. You pay monthly for these rather than upfront, so can be a good option for businesses starting out on a small budget.
IT Support and Security
IT support services are vital to the smooth running of an office as problems with hardware and CMS systems will reduce productivity. However, security is also important to prevent valuable and sensitive information being lost or violated. It's always a good idea to ensure you have a robust security system in place, preferably installed and managed by a company such as http://www.itwiser.co.uk/. You'll also be able to back up valuable data in the event of any loss.
Organisation
Failing to prepare is preparing to fail, and if your office isn't organised things can soon degenerate into chaos. It's essential to be organised to manage your organisation, improve productivity and efficiency, and minimise the loss of valuable documents or information. Use document management software tools for your online work, and have a clear filing system in place for paperwork.
Don't overstuff files, use sub-dividers and clear titles or colour coding, and make sure everyone in the team understands your filing process to avoid mistakes. Make sure that filing cabinets are also lockable. For documents that haven't been filed and need to be destroyed, a shredder is essential for making sure information doesn't fall into the wrong hands.
Wendy Lin is a freelance writer, painter and entrepreneur. She enjoys painting watercolour, hiking and boating with her family.