Decorating your new place is a great project to take on together. You can share your dreams, pool your resources and negotiate possibilities as a couple. Whether you want to go it alone or invite all of your family and friends to get involved, it's the two of you who will be making the decisions. Here are five tips for decorating your new home as a couple.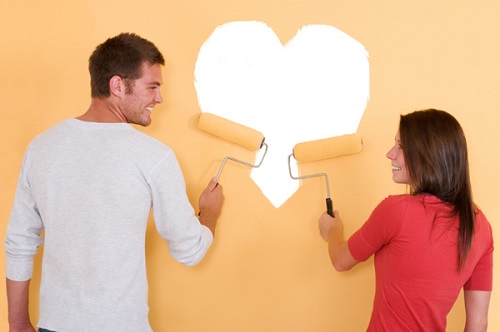 Choose a Color Palette
Color is a very personal choice. You may already associate certain colors with your partner. Perhaps he often wears shirts of a favorite shade of blue. Perhaps she rejects pastels in favor of bold colors — or vice versa. It's important to come up with a color scheme that you both will enjoy.
Color is emotional. Bold red is a great decorating color if you like it. If you don't, it can be hard to avoid, especially if you've painted the walls red.
Bring home a can of the color that looks good to both of you at the store. Paint an entire wall. You'll quickly find out how well it works in a room. Is it too intense? Too drab? Simply the wrong color? Cover over the wall with a better color.
Once you get the perfect color, paint the walls. It's easy, quick and inexpensive to paint a room. You'll feel satisfied that you've taken a good step together.
Don't Buy Everything New
The scrapbooks you're carrying with you from store to store may contain a perfect image. Don't try to recreate someone else's dream down to the details. Create your own dream instead.
Combine old and new. See what you already have that might fit in with the new design. If you've been promised a valuable piece of family furniture, find a way to make it work. Shop for used wood furniture online. Good pieces will stand up to time better than the latest fad done in inexpensive materials.
Start With the Bedroom
Make your first project a deeply personal one. The bedroom is where people spend most of their time. It's the place you'll be sharing the most. Avoid leaving the decision to one person. Spend as much time as you need on this first project. The decisions will get easier as you go along.
Buy a good bed. It's like setting sail on a well-appointed boat. Your journey together in this new home will begin in comfort.
Merge His and Hers
If you are combining two separate places into one home, you'll probably have to decide what to keep and what to discard. A valuable but unwieldy sound system is worth making room for, but the treadmill that no one has used in a year is not. Honor sentiment. There will be a perfect place to display her childhood teacup collection.
If you're already living together, this is a perfect time to go through what's in storage. Let go of whatever no longer suits the two of you. Make room for the future.
Keep It Simple
Some decorators advise living in a new place for two months before making major purchases. The two months will give you time to find out whether a new refrigerator is more important than a bathroom upgrade. A visit from old friends might cause you to rethink the home office as a spare bedroom. Keep it simple in the beginning; there's plenty of time to make adjustments along the way.
Decorating your house as a couple will give you new insights into how you work together. Use this time to create a future of harmony, love and new insights.
Marcie has been working with couples and individuals for over 8 years. Helping them start off right, strengthen and enhance their relationships and even avoid divorce. Her company, Love Your Relationship, focuses on telephone counseling.