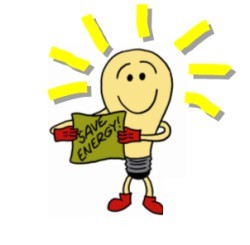 Save energy and reduce your carbon footprint by using your energy appliances more wisely. We've put together some handy tips on ways to reduce your energy consumption easily.
Fridges and Freezers
Your fridge/freezer is the third biggest energy guzzler in your home. It comes just behind air conditioning and your water heater. Trim costs every day by:
Avoiding the use of multiple refrigerators or freezers. By keeping an extra freezer that is not kept full or is hardly used can be a big drain on your pocket.
Keep your freezer full. Food catches and stores cold air, so naturally makes your freezer's job easier.
Keep the door shut. Reduce the amount of cold air which escapes by only opening the door once to get everything you need from inside.
Place your fridge and freezer out of direct sunlight and away from your oven and other heat-producing appliances such as radiators and boilers.
Decide which features you really need. Fancy extras, like through-the-door ice dispensers, can increase your electricity usage by up to 20%
Find cold storage spaces to store fresh food safely without using any electricity, such as a cool pantry or outhouse.
Cooking
Use energy more efficiently by managing your cooking habits. In general:
When you can, use a toaster or microwave instead of an oven. They use less energy. Your oven will also generate more household heat, so will make your air conditioning system work harder in the summer months.
Only use the self-cleaning cycle on your oven when it requires a major clean
Plan your meals so several items can cook in the over at the same time
Lower the heat on your stove once your food reaches boiling point. It won't cook faster with a more rapid boil
Only fill the kettle with as much water as you need at the time in order to make the heating process more efficient.
Washing Machines and Dryers
Your washing machine uses 90% of its energy from heating the water to wash your clothes, so:
Use a cold water cycle when possible and always use a cold rinse
Adjust the water level to match the size of your load
Take the opportunity to dry your clothes outside whenever possible
Don't overload your dryer
Clean your dryer's lint filter after every use to make sure your clothes dry faster
If your dryer has an auto-sensor function, make use of it to avoid your dryer running longer than necessary. If you don't have one of these, try experimenting with reduced drying times, or take your washing out of the machine part-way through the drying process and continue drying on clothes horses.
Front-loading tumble washers use a third less water, energy and detergent to operate in comparison to top-loading machines. Consider investing in new, energy saving appliances to reduce your energy consumption and household bills. Make use of the EU energy efficiency labels when shopping for any new appliances in order to compare efficiency and save energy and money in the long-term.
You may also want to consider comparing or even switching energy suppliers to make sure you are getting the best deal. It's a good idea to run an energy comparison to make sure you are on the best tariff.
Sam Travers is an eco-warrior of sorts. He works for a green charity and blogs regularly with help and advice for those looking to make the planet a better place.