There are a great deal of "old wives' tales" spun about the effects that colours can have on both interior and exterior design when it come to commercial refurbishment; especially on the way in which they affect moods and the first impressions that your clients and customers may have of you.
While many of these are based on anecdotal evidence, there has been a lot of research on colour psychology, especially when it comes to professional branding and commercial design. So if you're thinking about refurbishment, here's a quick guide as to what different colour schemes can say about the business that lies within.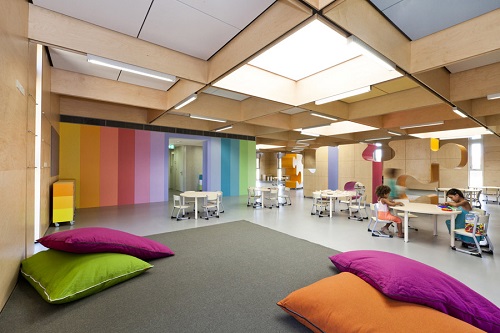 Blues
Being a primary colour, blue is one of the stronger colours that you can use when it comes to commercial refurbishment. A blue colour scheme in buildings has been associated with professionalism and reliability – a safe colour, but safe in the sense that we subconsciously see it as mature and sensible – certainly a colour to use if you want to establish a trusting first impression.
Not only that, but studies have shown that blue is the favourite colour of the subconscious – perhaps due to its calming hue, if one's surroundings have a blue colour scheme, they're generally the most at-ease. Lighter shades of blue are also associated with digital or technical excellence.
Greens
The universally symbolic colour of all things eco-friendly, is also the second-favourite colour of men, and the third favourite of women. Green is associated with health and growth, making it the perfect colour for gyms, healthy eating outlets, or establishments in which people might go to develop in some way.
Yellows
Another striking primary colour, and one that's seemingly much less common than blue, is yellow. Yellow is a happy, inviting colour, often associated with those yellow smiley faces. With its warm and inviting nature, yellow might be a safe choice to consider when it comes to commercial refurbishment – especially if you're looking to stand out from the competition with something a bit different!
Reds
Here's the tricky one – the one that all the myths will tell you gives you headaches and causes anger and frustration – the infamous red! Despite these unfortunate connotations, however, red is actually more often associated with boldness and excitement – a great colour to use, perhaps, if your clients are looking for radical change! Failing that, though, at the very least, a red colour scheme is a bold primary colour that'll help your establishment stand out!
Purples/Pinks
Purple and pink are both associated with creativity and innovation, and promises the customer something a little bit different – perhaps with a bit of a quirky edge. However, here's where you need to think about demographics, because while purple and pink are the second-favourite colours of women (the first being blue) – it's the second-least favourite colour of men, coming second only to brown. You'd also have to be very careful when refurbishing with pinks and purples (particularly pinks), as they can be disastrous if overused!
So that's our guide to colours to think about during your refurbishment! Apart from that, it also helps to keep your building branded, and in line with the colours found in your logo and on any material sent out. We hope this guide has given you a few ideas, and inspired you to get excited about your next refurbishment!
Article by the colourful Arran Garside, who often writes for Fraser Projects, if he was a colour he would be red!