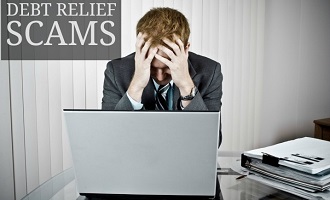 Millions of Americans are facing financial hardships due to overwhelming debts. It seems like swapping the credit card has become an inherent part of our lifestyle and as a result even small debts have risen to a point where consumers are finding it very difficult to repay them.
The problem of excessive debt can be understood from the fact that 10 years ago there were hardly 50 companies that dealt with debt relief but as of today there are more than 2,000 such companies across the United States.
Out of these 2,000 companies, some are legit and definitely care for their consumers but there are equal number of scammers and frauds that only care about extracting as much profit as possible from their clients.
In this article we will tell you how to deal with debt consolidation companies so that you don't fall for the jargon of fraud charlatans.
Asking for huge amounts of money as upfront fees is a hallmark of fraudulent debt consolidation companies. You must never trust such companies and deny any payment unless the debt has been renegotiated. The federal government also warns consumers regarding such companies. There are clear guidelines from the federal government that no debt consolidation company may ask for any payment unless the new terms of debt repayment have been finalized. You can even file a complaint against any company that asks you to deposit huge amount of money as upfront fees.
Get everything in writing:
In their desperation to pay the overwhelming debt as soon as possible people often believe anything that the debt consolidation company says. You must keep it in mind that if the debt consolidation company takes a u-turn in future then you won't be able to take any action against them without a written proof. Hence, you must make sure that any promises made to you by the adviser on behalf of the debt consolidation company are duly recorded in the signed agreement.
By behaving in an informed and educated manner, you can save yourself from a lot of trouble. Many debt relief and debt consolidation companies claim to be a part of the Obama Debt Relief Program. Let us inform you that there is no such program anywhere in the entire United States. Obama Debt Relief Program is nothing but an urban myth and some fraud debt consolidators are cashing on the lack of information.
It can potentially damage your credit history:
Many people don't know this but it's true that if you work with a debt management company then it will be marked on your credit history for the next seven years. Some major creditors who check the entire credit history before accepting a client consider such DMP markings equivalent to bankruptcy.
Look out for non-profit organizations:
Not-for-profit debt consolidation companies offer free debt analysis and advice to anyone who visits them. However, some of the services may not be free. Before contacting any for-profit organization, you should take advice from a non-profit debt consolidation company.
Paul is an associate at National Debt Relief, a BBB accredited business that has helped thousands of Americans resolve credit card debt problems. Consumers can take advantage of a free debt counseling session to discover their options for debt relief with no obligation.