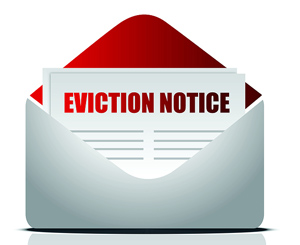 Evictions are never a pleasant experience for either a tenant or the landlord. The sad reality is that quite a few property owners will have to deal with this situation at some point.
However, just because you own a piece of property does not mean you can evict tenants as you please. There is a legal procedure to follow when it comes to evictions. This process protects the interests of the tenant and the landlord as well. While specific laws vary from state to state, the following is a lay down of what steps to take in order to evict a tenant legally.
Step#1: Serve an Eviction Notice
The eviction process begins with serving your tenant an eviction notice in writing. When to issue this paperwork depends on the lease agreement. Whether it is a week-week, month-month, or yearly lease, the landlord can make his or her move to evict a tenant after the due date of a new month for rent payment passes.
Some landlords may give tenants a grace period to resolve any issues that warrant an eviction even before serving a notice to quite possession. Once a notice has been served, it generally informs the tenant that they have to vacate the premises by a certain date. This period to vacate may vary according to local laws, but it is usually 3 days.
In any eviction paperwork, one must state the reason for wanting to eject a tenant. This can range from non-payment of rent to violation of tenancy agreements and termination of lease by lapse of time. When issuing the eviction notice, it is advisable to have someone present as an eyewitness or use a professional process server.
This way, you would be able to prove that the notice was served should the tenant deny it. After drafting the eviction notice, keep the original and issue a copy to your tenant.
Step#2: Raise Court Action for Eviction
If your tenant has not moved on the last day stated in the eviction notice or settled whatever issue that is causing the dispute, you can proceed to file an eviction order. Keep in mind that landlords are entitled to bring court proceedings to evict a tenant only if they have served a proper eviction notice and waited for it to expire. In this case, you should keep a copy of the eviction notice and take the original to the local law courts for filling.
After filing your complaint, summons will be scheduled. Hearings can start anywhere between 3 – 5 days after filing for an eviction order. This allows the defendant/tenant to file an appearance or plead if he or she wants to contest the eviction.
Step#3: Wait for the Court's Decision
An eviction can go in your favor by default as a landlord if the tenant does not file an appearance or plead. This however will also depend on whether one followed the proper procedure. Hearings will be inevitable if the tenant decides to context the eviction. The judge will make a ruling based on the evidence produced by both parties.
Step#4: Receive the Eviction Order
If the landlord followed the proper procedure, has perfect paperwork and even eyewitnesses, then they are granted an evicton order. This allows you to eject the tenant from the property on a given date if necessary. Local authorities will be present during the actual eviction just to ensure that the tenant complies.
Hanna Murphy is a housing mediator in Edinburgh, Scotland. She loves to help others when it comes to tenancy disputes. Click here to find out where Hanna refers landlords when it comes to handling evictions.