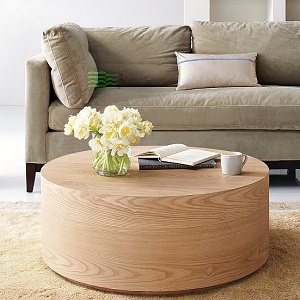 When you walk into any home and get shown into the living room, you will expect to find the furniture staples – a huge sofa, a reading chair or a loveseat and the coffee table. The coffee table may be the best place to park a steaming mug of hot cocoa in a cold winter morning, but its uses do not end there. The coffee table is also a loved venue for completing a puzzle, and, of course, the usual place that the ever elusive remote control languishes.
The coffee table, because of its traditional utilitarian reputation, carries a very family-friendly reputation. You may remember an incident wherein you hurriedly swept all of the toys and school supplies left on your coffee table into a basket when your friends dropped in without calling first in a bid to make your living room look a bit more mature.
Just like with other things, the coffee table has gotten into a serious makeover, and furniture makers as well as interior decorators are now excited to report that the coffee table has now grown up overnight.
Drumming It Out
If you want to design a living room which screams sophisticated while still paying homage to your carefree younger rocker days, then you've got to appreciate the coffee table which is made using  a vintage drum as the base that supports a clear transparent glass that is cut to have the same size and shape as that of its base. Not only are you subtly implying that you're a free spirit with a love for parties, but it's also a great conversation starter.
Go Au Naturale
If you are a conservationist by heart and would hate to see a tree chopped up but still crave to have a home fit for entertaining, then try custom pieces which feature raw wood. While raw wood tables are now abundant in the market, coffee table versions may not be so easy to come by.
Other than the very natural state that they come, another advantage of going with raw wood is that they often develop a patina (that is if the wood used is known for developing one) if the table is left untreated. This gives you the added pleasure of seeing something inside your house spontaneously and slowly change like the seasons. Raw wood coffee tables come with a wooden, box base or with the slab cut thick enough to not need any base.
Since coffee tables have become a must-have staple in the living room, we definitely want to see beautifully-designed ones  in our home. The tips mentioned above are just a few to mention. Depending on your needs and priorities, it is essential to choose wisely. If you are quite conscious with space, you can go for round coffee tables. There are great round table ideas at Nick Scali on twitter.
When you want to pair something with oversized sectional, why not try a large square table. You can check out these useful tips in many beautiful homes featured in lifestyle channels.
In order to maintain the pristine look of your coffee table, you can use coasters to prevent liquid from making its mark. Keep tables neat as possible and watch out for wayward feet since they can leave unsightly marks, too.
Carla Montez, the writer, is an avid shopper of furniture. She always love writing about various furniture perfect for homes and give practical advice to home shoppers. She is passionate about transforming homes and offices with the right kind of furniture.