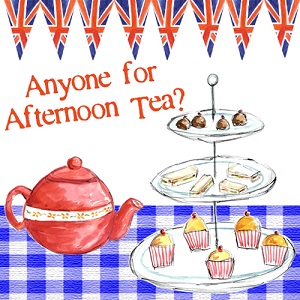 It's a sad fact that dear old St. George often gets forgotten. If you live in Ireland, Scotland or Wales, you'll know the date of your patron saint's special day and will probably do something memorable to mark it. But for the English, there is no such patriotism going on.
Research by the BBC suggests only four in ten English people know the date of St. George's day, but more than 70 per cent could name the US Independence Day. In case you were wondering, it's the 23rd of April and just around the corner. We might not be getting a public holiday for the day of our patron saint, but that doesn't mean we can't feel patriotic about our nation.
Here are some of the best and most memorable British traditions that we should be proud to celebrate, not just on April the 23rd, but all year round!
1.       Fish and chip Fridays
Despite fish being available all week, for many British families the tradition of 'fishy Friday' remains. Apparently it all started because of a Roman Catholic rule preventing meat eating on Fridays in lent, but today it's just a good excuse for a pig out!
2.       The country pub
The inn, the tavern, the alehouse… whatever you call it, the pub is a pure and unadulterated British icon that has stood the test of time. Whether you go to enjoy the real ales, the parlour games or the banter, the British pub is a part of our heritage we can all enjoy.
3.       Tea
Tea is not merely an herbal infusion, potentially complemented by a splash of milk. Tea, in the British sense, is so much more than that. Tea takes place in the mid-afternoon, long enough after lunch but not too close to dinner. It consists of a drink of tea, served in a teapot, accompanied by cucumber sandwiches and a selection of cakes, ideally presented on a tiered cake stand. Delicious.
4.       Stately homes
Britain is a country of history, heritage and boasts some incredible stately homes and castles, many of which can be visited. Longleat House is one of the biggest and most impressive in southern England, and many of the hotels near Longleat have impressive views across the Wiltshire countryside.
5.       The great British seaside
Nobody does the seaside like the British. We might not have the most amazing climate, but we do have sandcastles, sticks of rock and donkey rides like you'd never find in Spain.
6.       Country fayres
Putting the Y in fayre, the British countryside spends the summer hosting a plethora of events aimed at showcasing country food, crafts and sports. If you're really lucky, you might even get to see number 7 when you go.
7.       Morris dancing
Why dance when you can skip? Why wear ball gowns when you can wear bells on your legs? Yes, the British Morris dancing tradition is a fun and festive addition to every summer calendar.
8.       Bonfire night
Remember, remember the 5th of November, when dear old Mr Fawkes tried to blow up the government. These days it's just an excuse for some quality cider and copious amounts of fireworks to be let of across the country.
9.       Music festivals
Forget Woodstock, because the British music festival is where it's all going on. Glastonbury is world famous as the granddaddy of all music festivals, and with hundreds of spin offs such as V Festival, Creamfields and Leeds / Reading Festivals, there is never a better excuse to don your Hunters and get down and dirty.
10.   Village specific weirdness
From cheese rolling to nettle eating, toe wrestling to bog snorkelling, the rural villages of Britain host some of the weirdest and most wonderful alternative sports in the world!
Michelle Elston is the Reception & Revenue Manager at The Bath Arms. Michelle has a number of years experience in the hotel industry and is excited about the venue now being part of the Longleat Hotels collections.