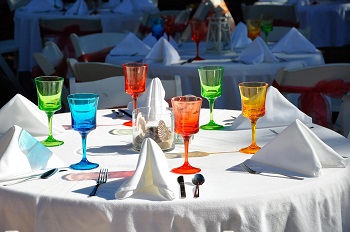 Hosting a large gathering or even a wedding in your garden is a wonderful way to celebrate with your family and friends. You will all be enjoying yourself in a space that you know and love, making the special day that bit more intimate and personal. However, you will want to ensure that your garden is not damaged by the festivities, so you may want to take these suggestions into account.
Protect the ground:
Your lawn can easily be damaged by a number of things that are always present at parties, from stiletto heels to cigarette butts. Your lawn will take the lion's share of any damage caused, and you may want to think about how you can shield it from harm as much as possible. Depending on the scale of the celebration and what expense you are planning to go to, there are many different options available. For a wedding, an temporary floor could be an option, or some plastic sheeting or walkways could be an efficient way of keeping your lawn in tip-top condition.
Establish where guests can and can't go:
As good as their intentions may be at the start of the evening, after the drinks have started to flow guests could accidentally cause damage to your garden. By making it clear where they are allowed to wander around and where they are not, you can prevent this from happening. Putting up signs or having arrows guiding them from A to B can help to stop people getting lost and potentially causing any damage.
Shield your plants from harm:
Plants are what give a garden colour and character, and to see them damaged would be heartbreaking for any gardener. There are a number of ways you can protect your favourite plants. Try bringing potted plants indoors or locking them in a shed, watering them well before you do. This way, they will be safe from any harm. If you are worried about damage to established plants, try putting up a temporary fence in front of flowerbeds or shrubs to deter any guests from getting too close.
Erect a marquee:
A marquee is the most obvious way to protect your garden during a party. It contains any mess, stops rubbish from being distributed around your garden and helps to show guests where they can and can't go. Marquees are surprisingly easy to erect, with the company you chose to hire one from providing that service or alternatively, you can buy one and put it up online. There are a wealth of websites and videos to help you, so there's no need to be apprehensive.
Be tough on litter:
Perhaps the most common problem people encounter when having a party outside is litter. Cigarette butts, empty glasses, paper plates – the list goes on! Provide bins for your guests to put their litter in, ashtrays for their cigarette butts and encourage them to refill their glasses rather than using a new one for each drink. It's inevitable that there will be some litter in your garden after your guests have left, but you can make it far less of a problem.
Time to let your hair down and enjoy the party!
Once you know how you are going to prevent any damage to your garden, it will be a lot easier for you to relax and enjoy the festivities. Your garden being ruined is not an inevitable part of a party, and while there will always be a little tidying up to do, it could be far, far worse! So take a deep breath, put your best outfit on, and get ready to party all night!
Henry Savage is the Managing Director of All Weather Access who specialise in supplying ground protection.