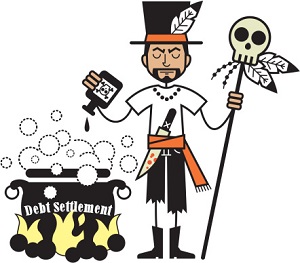 In an economy where commodity prices are always rising, it's pretty common for people to max out their credit cards. In an effort to make the ends meet, a lot of people get deeper and deeper in to the quicksand of debt. As soon as people realize that they will not be able to repay their debt, they start to look for easy ways of getting out. In their desperation they usually fall victim to fake debt relief companies and end up spending huge amounts of money that makes their already strained financial condition even worse.
The Federal Trade Commission (FTC), that regulates and monitors the laws regarding consumer protection, has repeatedly advised people not to trust debt relief companies.
What are debt relief company:
No matter how generous a debt relief company claims to be, you must understand that they are for-profit organizations. Just like any other for-profit organization their only motive is to maximize their own profits.
A debt relief company works by negotiating with the creditors on their client's behalf. The primary objective of this negotiating process is to reach a "settlement". This settlement allows the borrower to pay an amount of money that is less than what was originally owed.
Almost all debt relief companies require their clients to make monthly payments into an escrow account. This deposited money is then used to pay the amount agreed during the negotiating process.
Always remember that all genuine debt relief companies would advice you not to make any payments in the creditor's account after the settlement has been finalized.
Make sure that you are able to afford the debt relief program:
In their desperation many people sign up for debt relief programs without thinking about the long term monthly payments that they'd be required to make. As a result, after sometime they drop out of the program. This causes further troubles. As soon as you drop out of the debt relief program, the settlement gets negated. Hence before you sign up for a debt relief program, you must always make sure that you'll be able to make the monthly payments.
A lot of people make the mistake of paying the debt relief companies before any actual services have been provided. Please note that your creditor is free to say no to the negotiating process. Hence there is a possibility that your debt relief company will not be able to reach a settlement. For this reason you should always make payments after you see the legal documents regarding a valid settlement. The Federal Trade Commission has also issued guidelines regarding the huge upfront fee that debt relief companies demand before starting to renegotiate your debt.
According to the guidelines issued by the Federal Trade Commission, no debt relief company is allowed to extract payments before they successfully renegotiate the debt. Any company that compels its clients to make payments before the settlement of debt, can be reported to the Federal Trade Commission and all such companies are to be charged with fraud and unethical business practices.
Paul Ritz is an associate at National Debt Relief, a BBB accredited business that has helped thousands of Americans resolve credit card debt relief problems. Consumers can take advantage of a free debt counseling session to discover their options for debt relief with no obligation.