Have not decided your career yet? In case you are searching for a good paying job, then you may pursue a career in audio transcription industry. You will earn a decent salary by working as an audio transcriptionist. However, there are several areas to improve and skills to develop if you want to be successful in this field. Here are some of them.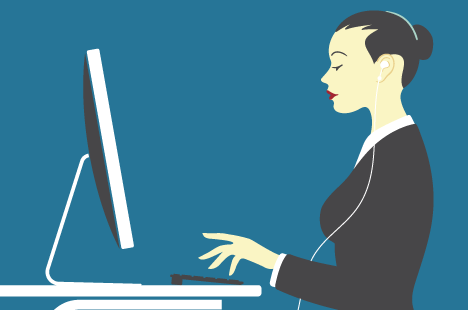 Experience
When applying for a job position offered by an audio transcription company, the first thing that they will investigate is your experience. You will have the advantage if you have experience in typing jobs and copy typing jobs. These kinds of work will develop the skills that you will need in audio transcription jobs.
Grammar and Spelling Skills
Clients will be annoyed if they receive a transcript that is full of grammar, punctuation and spelling errors.  Aside from looking sloppy and unprofessional, such mistakes alter the meaning or interpretation of the audio. If you want to maintain your career for many years, you must improve your grammar and spelling skills.
Familiarity of Terminology
Different companies, sectors and industry use various terminologies when managing their business. To make sure that you will be able to transcribe their audio files with great accuracy, you must be familiar of the terminologies used by your clients. You should spend time and effort in searching for specific terms and terminologies used by various companies. You may also decide to specialise in a specific industry. If you become an expert, many companies that are in the same industry will come to you.
Listening Skills
This is also one of the most important skills to develop if you want to be a successful transcriptionist. There are times that the quality of the recording is very poor because of the varying accents and background noise. Therefore, you must train and develop your listening skills to be able to distinguish the words accurately.
Investing in a nice set of headphones is also a good decision. It can amplify the sound and enable you to have better hearing of the audio files. You may also install a transcription software that will allow you to play, pause, rewind, and fast-forward the audio.
Dedication
Dedication is the key to success for any types of career. It is difficult to maintain motivation at all times. Sometimes you don't feel like working even when you need to meet the deadlines. However, if you are dedicated to your job, you will have the strength to complete the task given to you.
Typing Speed
Your hands will be on the keyboard most of the time when transcribing an audio file.  Clients always expect to receive the transcription as soon as possible. If you want them to come back to you again, you must ensure that you will be able to finish the task in the shortest time possible. You can do this by improving your typing speed.
As long as you have the skills mentioned above, applying for a position in the audio transcription industry will be a piece of cake.
Rico Anderson has been working as an audio transcriptionist for 5 years now. He loves to share his experiences by writing informative contents and publishing them on line. You may visit his page if you are searching for information about audio transcription services by 1stClass.