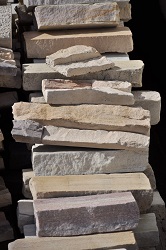 Are you thinking of redesigning your garden space and need some help deciding which kind of paving stones to choose? If the answer is 'yes' then this guide to using the best natural paving stones for your garden will give you all the advice and information you need to make a start on your project.
Good natural paving stones can transform your dull and boring garden into a beautiful bespoke area that not only enhances the appearance of your property but also adds value to it.
Whether you are looking for a traditional appearance or a contemporary style, there is a wide range of stones to choose from where natural paving is concerned.
Sandstone
Whilst sandstone may not be as white or shiny as limestone or porcelain tiles, it features fantastic veins that add character. Sandstone works well in all gardens, whether they are designed using traditional elements or are much more contemporary and innovative. Due to its light colour, sandstone presents a wonderful contrast with shadows in the sun and large stones of this kind can really enhance the appearance of the size of the garden.
Sandstone primarily comes from the UK (Yorkshire), India and China, so there are subtle differences in character depending on where the material is sourced from. One of the best things about sandstone is the fact that it presents a fantastic contrast when matched with other paving stone types such as granite or slate.
Besides the typical light yellow shade, sandstone also comes in a variety of colours including sandstone grey, sandstone blue, sandstone purple and sandstone red. One of the most unique sandstone colours is red and these typically come from China. The red veining in this sandstone buff is quite beautiful and a real designer piece for the garden.
Granite
Whilst granite is becoming increasing popular for kitchen countertops and shower tiles, it is also a fantastic addition to any garden. This grainy, igneous construction stone is incredibly tough, which is why it is so suitable for outdoor use. And due to the large number of colours, textures and finishes available for granite paving stones, you can really create a unique garden design with the natural paving stone.
Slate
Slate is often used for coping, water features and countertops, but it is a fantastic natural paving stone choice for creating a sophisticated outdoor space. Similar to granite, slate is very tough and durable, meaning it can be cut very finely in order to produce borders around the desired paved area and edgeways around paths. Whilst Spain is often credited for the origins of slate, the natural paving stone is often taken from Portugal and South America (specifically Brazil) as well.
Porcelain
Porcelain tiles present the largest amount of choice for natural paving stones. Often originating in Italy or Spain, porcelain stones require very little maintenance, are affordable to purchase and unlike other natural paving stone types their colour is held throughout the years. Another fantastic thing about porcelain paving stones is the fact that you can match the grouting to the tile for a seemingly uniform flooring type.
Neil Hodges is the Director of Block Paving Maintenance which is based in Witham, Essex and has over 25 years' experience in the industry of block paving driveways, repairs and maintenance.