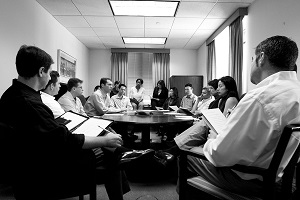 When planning for corporate events like formal parties, retirement dinners, conferences, or marketing campaigns, it is normal to have a corporate photographer in attendance. A photographer captures the most important highlights of such occasions through pictures. Photos taken during corporate events may be used for promotional materials, publicity, magazines, websites, or building employee morale.
Regardless of the occasion at hand, hiring a professional for this job is imperative and especially if you want quality pictures for your corporate event. Of course, it is best to compare different people before deciding on whom to hire. But, before making a list of potential photographers, are you aware of what to look for in a good photographer?
Below you will find tips to help you identify the right professional with ease. Have a quick read and learn what to look for in a quality corporate photographer.
Meet with Your Photographer for an Interview
After asking around for referrals and making a list of recommended photographers, the next thing you need to do is schedule for interviews. It is advisable to meet at the photographer's studio, if he or she has one. This will allow you to see some of the equipment the photographer uses. Keep in mind that photography requires much more than simply the ability to take great shots. Cameras are designed for different purposes. Some are good for snapping pictures in low light, while others are designed for long distance shooting or taking pictures with specific dimensions. Whatever your needs, make an effort to hire someone who has the right equipment.
The second thing to ask for while having a one-on-one with a photographer is his or her portfolio. Take time to go through the photographer's sample albums. This should help you know whether you have found what you are looking for or not in terms of quality.
In addition, remember to hire an experienced person for the job. Someone who has been in the corporate photography business for a while will know the kind of concepts or photo taking techniques required for such shoots.
Good Pricing
Corporate photographers charge differently for their services. Some will ask for varying rates depending on whether you want group photos or headshots. There are also those photographers that offer a package deal. Ensure to ask about the fees and what they cover so that you know what exactly you will be paying for. However, set aside a reasonable budget to cover expenses for the session and prints. Remember though that you don't need to go beyond your budget. Shop around for photographers that offer reasonable prices and quality work.
Creativity and Personality
While interacting with different photographers, take note of their personalities and input. Does your photographer seem to be knowledgeable? Do you get along well together? Ideally, try to hire someonewho is easy to work with, shares ideasyou never considered, listens and is willing to follow instructions.
The process of identifying a good corporate photographer may seem easier said than done. However, if you use the tips shared above to find the right person for the job, you can be rest assured that you will have great pictures after the corporate event.
Maria Cameron is a contributing author for Jonathon.co. When Maria is not researching and writing about photography, she loves to play tennis, watch movies and hang out with friends.