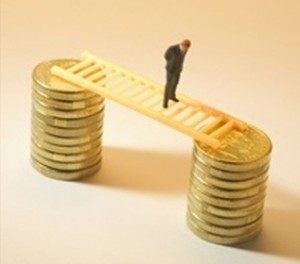 Bridging loans are a rising trend amongst the capital's property developers, where the crowded market means that competition is high, and time is of the essence. It's not just the developers that are taking out bridging loans in growing numbers either; home buyers across the country are increasingly seeing a bridging loan as a way to make sure they don't miss out on a dream residence.
What Is A Bridging Loan?
The easiest way to explain a bridging loan is as a means of relieving pressure: If you're stuck in a chain and you're house hasn't completed, but you'd like to put in an offer on a house before it gets snapped up, a bridging loan could help.
Bridging loans are also often used in auction scenarios, where speed is paramount. It's all a big gamble, and often, a vendor won't accept an offer until your existing home has a definite buyer that's made an offer.
So When Does A Bridging Loan Make Sense?
As suggested, if there's a really strong possibility that you're going to lose an opportunity to buy your dream home because your existing house hasn't sold yet, then a bridging loan might be appropriate. Essentially, owning two homes at once is going to result in a large amount of debt. A bridging loan can help to tide you over until one of the homes is sold.
A more likely scenario would be when a sale is about to go through, but a paperwork error or survey discrepancy throws a spanner into the works and holds up the sale. It would be a very risky prospect to enter into a bridging loan scenario if your house is still on the market.
Bridging Loans Come At A Price
There's no two ways about it: Bridging loans are expensive. You'll rack up thousands in debt if you don't sell your house after a few months, although any outstanding debt can be added to a mortgage once everything has been taken care of.
When Is A Bridging Loan Viable Then?
If your credit history is amazing, and you're sat on a high value, safe, easy to sell home, a bridging loan might work for you. The only way to really find out is to consult a mortgage advisor. Sometimes though, if you're in desperate need to extricate yourself from a slow moving chain, a bridging loan can be a life saver.
If you're looking for a fast turnaround renovation, or you're a skilled developer, a bridging loan could actually be a positive, profitable choice in the long run. Just don't consider it if you're an inexperienced buyer.
Are They Widespread?
Bridging loans have been on the rise since the 2008 financial crisis, as banks and building societies become much more discerning about not only who they lend money to, but also how much they release. Bridging loan brokers can advise you on the long term financial costs, and the risks they present, but if you meet the criteria, they could save many property headaches.
Wendy Lin is a successful female entrepreneur. She started her private financial consultancy company when she found herself over her head in debt with starting her company.