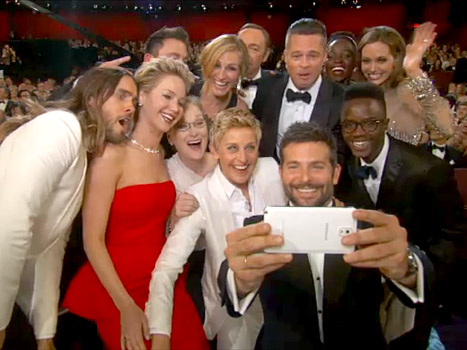 Even though "that selfie" picture from the Oscars is unlikely to be beaten, it still seems as though plenty of people want to keep pushing the selfie craze as far as it will go. After that major photograph, there was perhaps a thought that the demand for this style of picture would die down. After all, when you can't compete with the best, is there any reason to stay in the game? Of course, in the modern era, it is more likely that people will be inspired by what they see and this will lead them to copying what they have seen and doing their own version.
First of all, there were the Photoshop versions of the popular Oscar night picture. This led to some really funny pictures and some pictures that weren't too funny. That is the nature of the beast and while the imitations may have gone on for far too long, it is good to see people getting involved with something that is quite fun and wholesome. There are certainly a lot worse things people could be doing with their spare time and their computers.
Of course, there was also the stage that people physically copied this major event. Some people went for a like for like copy but there has also been a trend for people to take the spirit of the group selfie and bring it into their own life.
What is a selfie?
It is perhaps time to take a brief break and think about what actually constitutes a selfie. The name would imply it is something that you take yourself and has only yourself in it. With this in mind, can it be a selfie if someone else takes the picture of you? Can it be a selfie if there is more than one person in it? The Oscar night picture actually failed on both of these elements but it just goes to show that once a name sticks, it probably sticks for good.
There have been a number of sporting selfies of late which have captured the imagination. The 6 Nations event in rugby is a popular sport for those with an interest in the game and appropriately enough on St Patrick's Day, Ireland triumphed. Very quickly after the game, and while the celebrations were still in full swing, a selfie had been snapped of the Irish players and the trophy for the tournament and it was making its way on to twitter. This has since been retweeted and favourite all over the world.
Footballers are never shy
On the same weekend in football, Arsenal had managed to scrape a narrow win over their north London rivals Tottenham Hotspur. It had been a terrible game, one that no one will really want to relive or capture for posterity, but it offered Arsenal players and fans the excitement of beating their local rivals and the knowledge that they were still in the hunt for the title. With this in mind, it is easy to see why some players would be keen to celebrate and the Arsenal goalkeeper marked the occasion by taking out his mobile phone and grabbing a few of his teammates in a celebratory selfie.
It used to be that the way you would use your phone to create a personal style would be to create a personalised cover for the phone but now it seems it is all about taking pictures and adding them to the World Wide Web. Actors and sportsmen and women are the most photographed people in the world and they also have lots of followers online. It therefore stands to reason that twitter pictures and connecting in this way is something that has taken off and will remain very popular for many years to come. There is no getting away from the fact that these pictures are here to stay but you wonder what will happen next.
After all, the bar has been set with respect to the number of retweets and for a new picture to get beyond that, it will have to pull something out of the bag. Whoever wins the football world cup in Brazil this summer will surely have a selfie picture taken with the cup before the day is over!
Andrew Reilly is a freelance writer with a focus on news stories and consumer interest articles. He has been writing professional for 8 years but has been writing for as long as he can care to remember. When Andrew isn't sat behind a laptop or researching a story, he will be found watching a gig or a game of football.