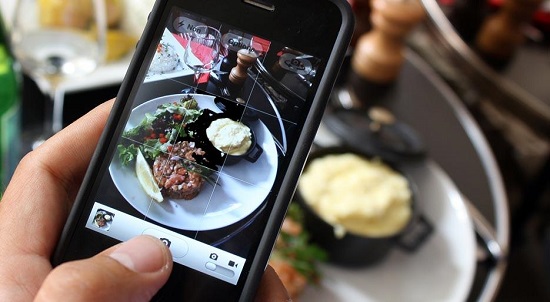 Food photography not only enables us to share our culinary experiences with our friends and family, it also allows food businesses to promote their products to millions of people to help them target new customers. Here, we discuss the how new food photography 'addiction' has taken the world by storm.
Why is Instagram so popular?
It has been more than three years since the photo-sharing service Instagram, pioneered by Mike Krieger and Kevin Systrom, was launched into the social networking world in October 2010. Since then, the site has acquired more than 100 million users and has been an enormous hit with smart phone owners.
Food enthusiasts can follow other food lovers from all over the world and gain instant visual inspiration. Some of the most popular accounts in 2014 include @tifforelie, an avid baker and manager of the 'Offbeat and Inspired' blog, @lindsaymaitland, associate food editor of 'Real Simple Magazine', and Gavin Kaysen, a chef working at the renowned French Cafe Boulud.
It's not commercialised
While its owner, Facebook, advertises on its website, Instagram is still not monetised, which means no annoying advertisements to suffer. Instead, Instagram has a unique identity (indeed, many people are unaware of the fact that is own by the social media giant) and appeals to people who simply want to share their photos, showcase their creativity or market some of their services. People don't associate Instagram with products or brand names, although it is obvious that Facebook acquired the company to prevent other competitors from taking up the market.
Simple to use, without endless features
Unlike Facebook, Instagram does not involve any tagging, categorising, timelines or any other complicated features, which makes it quick and easy to use. Users can also post 9-second videos, which can be accompanied by hundreds of shots and are particularly useful for businesses looking to provide a quick insight into their company and the people in their team.
Instantly share your dining experiences
Before the era of the smart phone, taking pictures at a restaurant was less exciting. Having to use a digital camera (often with a bright flash) and then wait to upload the photos onto your computer took a considerable amount of time. Now, however, it is much easier to share all of your restaurant experiences with your friends and family by posting photos that have been taken literally seconds before. Taking photographs with your phone is also more discrete than a compact camera, although the image quality certainly does not rival that of a larger SLR camera.
But not all foods look great on photos
Of course, it is important to remember that not all foods are photogenic. Vibrant colours like pizza, tomato soup or desserts often provide the most appealing photos, while fried foods, brown sauces or messy salads do not always create the best impression, nor are they necessarily good for restaurant marketing. However, to make your food look better, it is generally better to use natural light and, wherever possible, avoid using a flash, although this is not always easier when it's dark.
Are you Instagramming yet?
Probably one of the main factors responsible for the success of Instagram is how easy it is to sign up for it. In fact, all that's required for the registration process is an e-mail, password and username.
Simon Carr is the founder of Kar Photography and has an extensive and beautiful food photography portfolio.