With tens of thousands of homeowners all over the country embarking on upgrading their kitchens and dining areas, kitchen renovation could almost be termed the Great American Pastime.
And with good reason: Few things are more satisfying than the sight of fresh new cabinets, sparkling appliances, attractive floor, gleaming backsplash and countertops – and then seeing all of them come together to define a space that's both functional and stylish.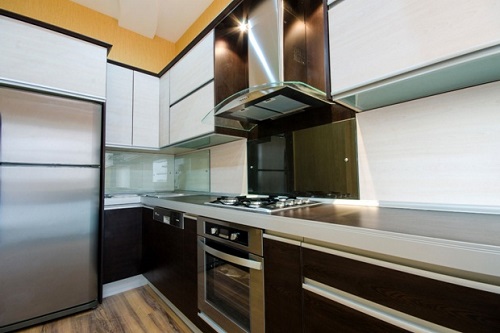 Remodeling is a particularly tempting option if you have grown tired of your kitchen's current design, or if its once-appealing style is now bland and boring, bringing you down rather than being conducive to entertaining. Finally saying goodbye to fussy floral wallpaper, outdated stencils, undersized kitchen sink, outmoded or inefficient range top, battered  cabinets, and homely backsplash – and replacing them with fresh and modern units– is truly cause for celebration.
However, modern kitchen renovation can carry a hefty price tag. According to the 2013 Cost Versus Value report, a major kitchen remodel with all the bells and whistles – including cabinet remodel, new island, appliances, countertops, and resilient flooring — can come in at close to $54,000. A mid-range renovation that includes refaced cabinets, new appliances, and countertops can still exceed $20,000. In tough economic times, many homeowners simply don't have the funds available for a much-needed remodeling.
But we Americans are nothing if not resourceful. Many homeowners are using smart money-saving tactics to perform "mini-upgrades," while still keeping costs manageable. Here are some of the most effective:
Fresh Paint on Cabinets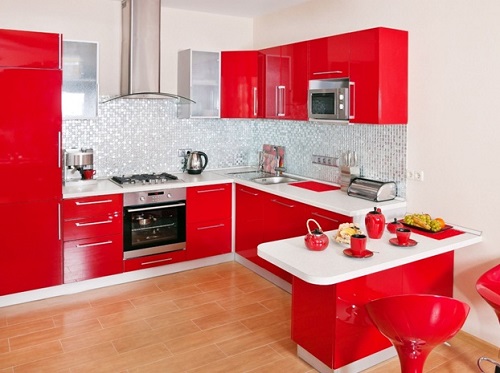 Your first weapon in the battle against costly renovations is your paintbrush. Repainting cabinets is almost universally acknowledged as the most inexpensive method of quickly improving and upgrading your kitchen's appearance.
However, we are not talking about merely slapping on a coat of haphazard color from whatever is left over from painting the living room. A well-done job involves cleaning, preparing, and sanding surfaces, then priming and meticulously applying high-quality paint in a well-chosen finish and color.
There is nothing like a glossy coat of sparkling, reflective white – incidentally, the current favorite color for kitchen cabinetry – to open up a kitchen and create a fresh look. But it's not necessary to confine yourself to white if you crave bold colors: intense shades such as russet, cherry, gold, and cocoa brown can also charm, as long as they harmonize with counters, backsplash, and floor.
You can give even more punch to a good paint job by refacing a worn peninsula or island with beaded board that mimics the appearance of wainscoting. This fairly inexpensive fix can help transform the look of your kitchen in no time and with little investment.
Brushed nickel or stainless steel hardware – in the currently trending minimalist style – also help add extra voltage to a new paint job.
Use Lighting to Highlight Existing Strong Points
New lighting elements can transform a kitchen in a way that is almost magical, particularly when used to accent features of your kitchen that are already pleasing. The increasingly popular—and graceful-looking — pendant lights are not only focal points in their own right, but can direct the eye to attractive elements.
A generously-sized stainless steel pendant light provides an eye-catching accent over a gleaming sink, while echoing brushed metal cabinet hardware and stainless steel appliances. A row of mini-pendants, suspended over an island and covered in shades of rich espresso, can not only flatter the shape of the island, but echo and reinforce a still-beautiful dark walnut hardwood floor.
Beauty Afoot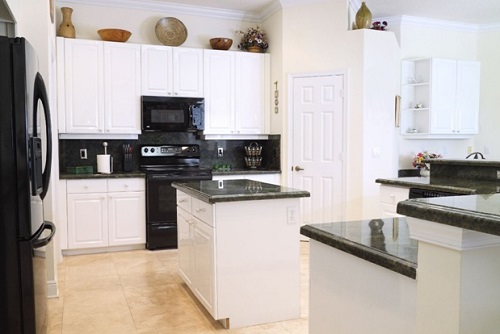 Your kitchen's floor is a vital design element that can do more than almost any other surface to unify and pull together your design scheme. If you wish to upgrade your flooring inexpensively, clay-based ceramic tiles can be a godsend. Durable, attractive, and easy to clean and maintain, ceramic tiles add a fresh, updated, high-end look.
Neutral colors – such as pale, silvery gray, subtle almond, and light beige – are currently fashionable and bring pleasing organic texture, while flattering stainless steel appliances.
When considering size, forget the small tiles, which can have a distracting effect. Currently in favor are generously-sized tiles of at least 12 square inches; these tend to make your kitchen appear larger. Make sure you purchase tiles that can stand up to the heavy foot traffic common to kitchens. Tiles rated at least Group III by the Porcelain Enamel Institute are a good bet.
Remember to always seal the grout when installing kitchen tiles. This simple step can save you hours of cleaning and scrubbing, as unprotected grout soaks up spilled grape juice, coffee, and other substances, resulting in deep stains.
New Window Treatments
Freshening up window treatments can not only beautify your view of the outdoors, but also improve your perspective on the kitchen itself. Switch outdated curtains for sleek bamboo and matchstick, rattan, or sisal blinds. Their pleasing natural texture and streamlined form can add an organic feel to a contemporary décor.
Another option, roller shades, can add drama when unfurled, and an accent mark at the top of windows when drawn up. Use them in bright colors and intriguing patterns to add a jolt of visual interest.
Fresh Paint on Walls and Trim
Although pure white is an effective choice for cabinets, it can look bland and boring on kitchen walls. A simple shift from unadorned white to sophisticated pale gray, elegant beige, or rich cream can add warmth and interest, and may enhance existing backsplash, countertops, and cabinets in new and unexpected ways.
While a coat of flat white paint can look overly "generic" on kitchen walls, certain gradations of white can be a smart choice. White paint that features a strong wash of lilac, silver, or blue is much more visually interesting and can complement stainless steel appliances.
To play up a bold cabinet color choice, unify different colors in a design scheme, or flatter appliances, consider a brightly-painted accent wall. You can also cover an accent wall with grass-cloth wallpaper – this option, currently surging in popularity, provides a fresh, natural texture and an airy, effortlessly high-end look to a kitchen.
Accessories, Decorations and Accents
With a few dollars – and a good eye for shapes, colors, and textures — you can unify your kitchen's design and provide final touches that will elicit gasps of admiration from guests. Grace counters and open shelves of your newly-upgraded kitchen with a pewter pitcher adorned with a sprig of fresh lilac, a shapely crystal vase filled with bright lemons, a chunky white bowl cradling spring-green apples, or a plum-colored bud vase holding a spray of cherry blossoms. Artistic accents such as these can provide the tactile detail and visual impact that distinguish a great design job.
With so many affordable "mini-remodels," you can upgrade the look of your kitchen without breaking the bank.
Molly Hilton is the owner of Renaissance Painters in Toronto and has devoted more than 30 years to home renovation, painting, and custom home building. Her unique design concepts bring homes to life with colors and unique pieces that are artfully placed to draw attention to the most powerful and distinctive features of a home.