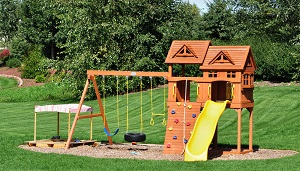 Summer is fast approaching and the call of the outdoors is in the air. Your children are probably raring to go, so it's a good thing to consider what kind of playsets you can set up for them. Safety is crucial when you make your decision, so we've provided a few tips for installing those sets and maintaining the fun to safe ratio for all involved. Your kids will be out there and out of your hair in no time.
Selecting & Setting It Up
Here's the truth: wood sets or frames are always preferable to metal set ups. Metal tends to rust and can lead to nasty nicks and cuts if left unmaintained, whereas wood is more forgiving. So, let's check out a couple of safety tips for your playset:
Avoid playsets which have moving parts or have quite a gap at the bottom. It's possible for kids to crawl underneath and get trapped.
Watch out for swings with hard seats, as these can collide with children and pose a health hazard.
Leave your kids' fantasy ideas of ropes and rope swings behind – strangulation is a real threat.
Always select a playset or climbing frame with guard rails in the appropriate places, and avoid metal.
When setting up your playset, throw a tarp or soft cover over the grass where you intend on placing it. Ensure the area is clear of stones, roots, toys and other sharp objects.
It's also a good idea to layer sand or wood chips beneath the play area, as this will protect your lovelies if they fall.
Ensure all the 'S' hooks on the swings are properly closed – otherwise they could detach while your child is swinging.
Smooth out rough wooden edges to avoid splinters.
Choose playsets that are age appropriate – swings aren't for all ages, and neither are slides.
Make sure any playset you get doesn't have any protruding bolts, worn chains or ropes, or otherwise unsafe bits and bobs.
Check for any abnormalities or possible problems quite frequently – maintenance is key.
Get rid of worn out playsets as soon as they get… well, worn out.
Maintaining The Fun & Safety Level
Once you've selected any one of the fab, safe and age appropriate playsets or climbing frames out there, you need to maintain that safety level whilst your children play. Here's how:
Supervise your kids at all times. The young ones are all about rough play, and shoving and tackling aren't things you want done on any construction above the ground. Make sure the playset is clearly visible in the backyard and that you can see it from the house.
Teach the kids safe play rules: teach them to be aware, to play safe and to make sure the set or frame is dry before they go anywhere near it.
Hot metal sets pose a burning hazard and should also be avoided in the heat of summer. Make sure you and your children check whether the surfaces are cool to the touch before play time begins.
Check the sand or wood chips and their depth before your children head to the set, and ensure it spreads far enough in every direction.
Make sure your children take turns on the set, as too many players on the play zone could lead to injury.
Climbing frames and playsets are always great fun, but they should be safe too. Why get heart palpitations every time you think about your climbing frame, when you can install it safely with these handy tips? Get out there, get yourself some safe play equipment, maintain it, and you're all set. Have fun!
Lilly Sheperd is a blogger and writer on topics related to family life and children's health. Nowadays she's writing on behalf Gardenatics, a firm offering wooden climbing frames & treehouses.