Sometimes people just get tired of the same old home decor. They want something exotic and exciting that will leave them wowed about the room every time they step into it. Bamboo is a great material to add to your home as it gives an exotic and tropical appeal while also giving benefits to the environment.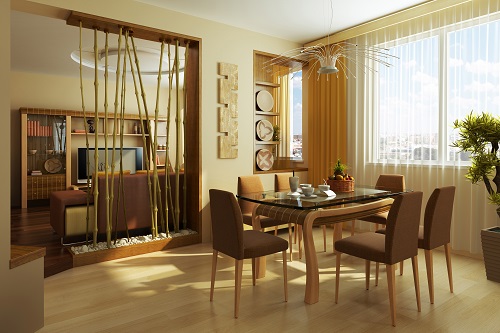 Check out these decor tips if looking for a way to incorporate bamboo into a room.
Bamboo Home Decor Ideas
Bamboo floors: Go all out and place bamboo flooring in your home. It is low maintenance, durable and offers a bit more water resistance than regular hardwood floors. Be aware that bamboo does scratch more easily. So place the bamboo flooring in rooms where it won't experience a lot of high foot traffic from kids and pets. You can also refinish bamboo if it does become scratched.
Bamboo rugs and floor mats: If you aren't too keen about a large room renovation of changing your existing flooring to bamboo, pick up a few bamboo rugs and floor mats. Bamboo rugs come in all sizes for a room as it adds a touch of uniqueness and a soft feel underneath your feet. There are also bamboo spa and bath mats for bathrooms to provide a non-slip surface when stepping out of the tub or shower.
Bamboo towers and tables: Towers and table made out of bamboo are lightweight but strong. You can move the furniture quickly around the room to change the decor design instantly while your items will have a secure place to sit. Bamboo towers and tables are great to organize your towels and toiletries in the bathroom or small knickknacks in your living room.
Bamboo valances and curtain panels: Bamboo window treatments can add a relaxing mood to the room while still giving you the privacy that you wish. Select cafe curtains for the kitchen window or bamboo panels for French doors, tall windows and outdoor seating areas.
Bamboo containers and trash bins: It is so simple to add a touch of exotic bamboo into a room without buying large furnishings. Add a few bamboo containers to hold the mail, television and game remotes, or other small items you use daily and that get lost easily. Even a simple bamboo trash bin can add a bit of exotic flair without making the room crowded with too many items.
Why You Should Switch To Natural Bamboo
There are many reasons to pick bamboo for bed and bath decor or room furnishings. Bamboo is a natural resource that grows rapidly as it is self-sustaining. It can be grown in different climates and soil conditions, as bamboo can be a suitable replacement to other wood materials that take a long time to replenish naturally. As home builders and contractors are looking for more green alternatives to developing buildings, bamboo has become a viable material that is cost-effective and beautiful.
With over 1200 different species of bamboo in the world, you are sure to find the right one that fits into your personal design tastes. Decorate your rooms with bamboo and fall in love with your home again.
+Paul Reichman is the founder of BedBathStore. Using decades of experience in home fashion, Paul offers a wide range of Bamboo items for your home at affordable prices through www.bedbathstore.com.