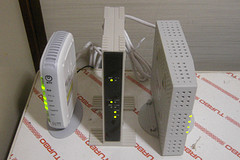 Since 1973, when the first VoIP call was made, there has been a sense of feeling that it will replace traditional phones. As the time wore on it seemed that this is a matter of when rather than will or how. Now it might be the time when VoIP finally takes over from the traditional phones. The main thing that has been in the favor of VoIP is the amount of facility and features it provides in much less money. The features include video calling, messaging, voice calling, conferencing etc. All you need to do to run a VoIP connection is an uninterrupted internet connection.
Why is it Good?
Earlier, one could call through VoIP to only that person that used same service. But now that has also changed. You can call any number nationally or internationally, without having to worry about the bill. Along with the saving of cost it provides you with the flexibility of your workplace. You can work from your office, home or while on the move. You can even increase or decrease the number of lines in a connection based on the traffic. The troubleshooting for the system is online and fast so the business doesn't suffer for a longer time.
There is More
Another great advantage of VoIP is "follow me" facility. In this feature person can set different calling numbers depending upon the time of the day. In this manner, he can work from anywhere. In VoIP one can receive voice mail messages as e-mails, keeping you connected even on the move or international trips. Another feather in VoIP's cap is the automated answering. Now none of your callers have to listen to street music or worse silence. While being held up they can listen to your new offers or other useful information.
Even More Advantages
Another great feature of VoIP is screening feature. Though it is not much publicized it is a great trick up the sleeve. If a caller is trying to pester you, you can completely block him/her or if any of your relatives call you can redirect the call to your call phone.
Traditional Features
Traditional phone on the other hand have a few of its own advantages. First and foremost being its reliability. It has been there for such a long time that no one bothers to question traditional telephones reliability. Very rarely there is a problem in the connectivity while in VoIP as the internet connection goes down communication goes down with it. But that is where it ends. Traditional telephone in every other way has somewhat lost the race to VoIP.
Conclusion
The full realization of the potential that VoIP has cannot be done in every business environment. A brokerage firm where the frequency of receiving and making calls is tremendous can never do with VoIP. Whatever may be, traditional phone is, and for the foreseeable, will be there go to device. So to replace the traditional telephone with VoIP is not a general question but a relative one. It might prove good for one company while it might destroy the other completely.
Author Bio:
Josephine Clark is a Cloud and Mobile Technology enthusiast and an avid writer. Other than working at QuickBooksCloudHosting DotCom, she actively participates in various forum discussions, writing blogs and articles on topics like latest mobile apps, updates of Operating systems, Cloud hosting services such as QuickBooks hosting, etc.