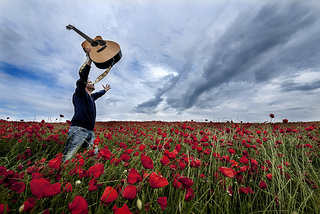 Napster revolutionalised the way music lovers accessed their songs. They were the ones who popularized the idea of file sharing through the internet among the masses. Later it ran into copyright hurdles, but it was great until it lasted. Moreover it gave other entrepreneurs an idea to take forward their venture in a cost effective and appealing way.
Since then much music hosting sites have surfaced and have tasted success and disappointment in equal measure. iTunes is obviously the first name that comes to mind when the topic of discussion is music on the cloud. They have pioneered the way music is sold and listened and with continued innovation apple is doing the success is bound to follow. It prompted many people to buy their music instead of buying CDs of pirated music.
Music Apps
Another boon of cloud to music industry is the apps that recognize which music is being played. The recorded clip is uploaded into the server and is then searched against the indexed songs. If the hit is received, result is displayed (in most of the cases) otherwise no result is shown. These apps have made everyone a music encyclopedia.
If you prefer streaming random music that somebody has randomly chosen for you but you don't want to ditch the social media feature, you can easily upload your favorite songs anytime and anywhere with an emerging wave of cloud-based music platforms.
Big Player Are Not Shying Away
Tech giants have also jumped onto the cloud bandwagon. Amazon, Apple, and Google have launched their own platforms to offer cloud music services. These include the Google Music Beta and Amazon Cloud Drive. The jury is still divided on the success of these platforms but it is a beginning. Sony has also jumped into the mix with their Sony music app, exclusively for Sony users.
Apple on Cloud
Then, of course, there's Apple with its latest release of iCloud, in which it makes a wide array of data (e.g. photos, music, apps, and calendar) easily accessible through all the Apple devices such as iPad, iMac, iPhone, and iPod. Meanwhile, the free iTunes in the cloud music service allows users to access new music and applications through Apple devices and create a backup for all of their files in the cloud. For a certain fee, people can also upgrade the services they get from the cloud hosting and tech for music.
New Kid on the Block
Another trend maker in the world of music that is taking advantage of the cloud music is Spotify. This Swedish website basically offers streaming music, and has partnered recently with Facebook to allow users to share music alongside streaming music with friends.
The debate about cloud-based music is still ongoing, and the arguments are wide and varying which could range from criticizing the added fees to access features that are basically included in the package to the potential inaccessibility of files because of weak signals and even risks of compromising privacy and security through cloud breaches.
Conclusion
As many other industries, the music industry has thrived upon this cloud technology. They have been the flag bearers of the success cloud have received over the years. And with many plans being in the pipeline the upward trajectory of cloud is bound to continue.
Josephine Clark is a Cloud and Mobile Technology enthusiast and an avid writer. Other than working at QuickBooksHosting DotCom, she actively participates in various forum discussions, writing blogs and articles on topics like latest mobile apps, updates of Operating systems, Cloud hosting services such as QuickBooks hosting, etc.