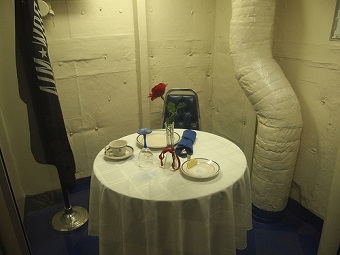 Having a stunning designer dining table is wonderful and you have every right to display it without a cover. However, there is just something gorgeous about a crisp, lacy, beautifully ironed and draped tablecloth. It can instantly set the mood for a formal sit down dinner and turn a simple meal for two into an intimate dinner.
However, the opposite is true as well. A poor choice in tablecloth size and shape can mar the beauty of the table and ruin the table setting completely.
So how do you choose the right size tablecloth for your table? Here are some tips.
Start By Measuring Your Table
Measure your actual table size and remember that the tablecloth hangs down over the corners.  Manufacturers usually make tablecloths larger to accommodate a skirting. A skirting is traditional and it can create a neat and formal appearance. Measure the table in inches and cms as some manufacturers may display only one measurement on the packaging.
Traditionally, table heights are roughly the same but it is possible that you have a taller or shorter dining table and it would be a good idea to measure your table height as well when you go tablecloth shopping. Tables are usually 30″ high and chair heights are about 18″ from the seat to the floor. These measurements are important as they also influence tablecloth selection.
Assess Your Table Shape
The four basic table shapes are round, rectangle, oval and square.  Tablecloths are available to fit these table shapes. You can find tablecloths that just fit the tabletop surface only. However, make sure you check the packaging before purchase.
Choosing Tablecloth Sizes
Manufacturers make several different tablecloth designs and the size varies accordingly. For example, some tablecloths may hang down to the floor while others may extend halfway. The skirting drop may also differ according to your table height. However, on an average, you should add 20 inches to all sides of your table measurements to find the perfect size. For example, if your tabletop is 40" x 65", you should choose a tablecloth that is approximately 60" by 85" in size.
Table height is important here as well. If your table size is roughly in the 29" to 30" range, you can continue adding 20" to the measurement. However, a taller or shorter table height will mean adding or deducting inches from the tablecloth size. For example, if your table is 32" in height, you should add 2 inches on all sides of your tablecloth to compensate for the additional height.
Material
Tablecloth sizing also depends on material. Vinyl is dimensionally stable and does not shrink but linen and cotton do shrink on the first wash. If you are purchasing a damask, linen, jute or cotton tablecloth, make sure you add 5 inches to the dimensions to compensate for shrinking.
Online home linen stores often carry a wide range of table linen and are a good place to look for what you want.
Finally
If you've already purchased a tablecloth and find it too small for your table, there is no need to worry. Double tablecloths are trendy now. Just buy a contrasting but larger tablecloth and place the smaller one on top of the larger tablecloth to create an interesting kitschy look. You can add a clear vinyl top sheet to protect your tablecloths. This will not only look chic but it will protect your table and tablecloths.
Do you have the right size table cloth for your table?
By Azzam Sheikh
This article was written by Azzam Sheikh, consultant at Absolute Home Textiles, UK.