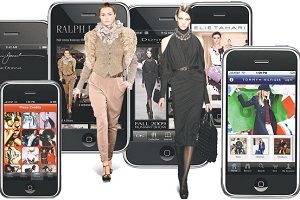 Staying current in fashion means having the latest in catwalk news, seasonal trends, online shopping deals and styling dictates at your fingertips. The mobile apps market is teeming with ever newer, smarter and fun ways to follow your fashion passion.
Check out virtual styling assistant apps that help you visualise how you'll look with a new hairstyle or outfit; apps that point you to sales and specials with discounts if you complete instant checkout; apps that let you follow fashion icons; or streaming information from fashion magazines and TV shows.
Whether you're trying to pull together a street look, looking for the latest in gym tops or jeans, or hunting down the latest in glam dresses and shoes, there's an app for you. Here's a cross-section of seven of the most popular free fashion apps (in no particular order) out at the moment.
Seven Popular Free Fashion Apps
Covet Fashion: Pull together your own style from a virtual wardrobe featuring more than 80 collections from different designers. A bonus of using this game app is the contests where you can win designer outfits.

From Rachel Zoe (stylist and designer) and available on both Apple and Android platforms

Fashion TV: Delve into the latest fashion shows, catwalk news, interviews with models and designers, and view thousands of images of new fashion styles. You can also watch Fashion TV live. A big bonus are the points you get for using the app, which can be redeemed for fantastic rewards including invites to Fashion TV events.
Snapette: For every fashion shopaholic, this app helps you find the latest in designer fashion on sale, including outfits, shoes and accessories. You can search local stores and international stores, select items for sale and bundle them all into one shopping cart. An alert feature keeps you up to date on new release fashion, discounts and giveaways from more than 750 fashion brands and stores. This apps is so handy: just think you can pay for anything from shock absorbing sports bras to high heals to little black dresses.

Available on both Apple and Android platforms

Hairstyles 2014: More than just hairstyle pics, nevertheless this app brings you a huge image gallery of the latest trends from the catwalk and leading hair salons. You also get articles on hair care, and great tips and tricks, including all the points you should discuss with your hairdresser before deciding on a new cut.
Nails Fashions Ideas: For every lover of fantasy and glamour nail designs, this app brings you hundreds of nail polish design ideas for everyday and special occasions. The daily updates feature will keep you inspired.
I Love Your Hair: This has a great image gallery with hairstyle photos uploaded by people from all walks of life. Browse by length, texture, colour and other features.
Weddings – Digital Wedding Guide: Everything you need to know about weddings – venues, ceremony preparation, the wedding dress, organising the reception and more. A big image gallery with supporting articles, tips, and links to wedding service providers, make
This post was written by Katie who loves spending time on her iphone searching around and playing with different styles and trends.