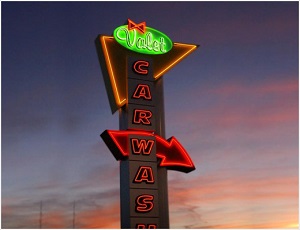 Neon signs are long tubes of gasses that light up the night. With the ability to form smooth curves and colours, sign makers have been playing with the medium since it became popular in the 1920s. Signage is written in languages across the world, wherever a business has access to energy.
Origins in art deco
Art deco lasted from the 30s to the 40s of the 20th century which spread to traditional forms of art as well as architecture. A bar and music venue in Brussels, Belgium called L'archiduc has hosted many iconic musicians. L'archiduc has had the same beautiful wrought iron gate with an intricate metal 'A' resting atop for a front door for decades. Above the arch is a strategically placed neon light spelling out the name of the bar in clean cursive. The light blue sign is well known in Brussels, leaving the name of the establishment lit in the memories of patrons and tourists alike.
It's all in the name
Moulin Rouge is a Parisian cultural institution, both for its artistic and entertainment offerings and for its seedy underbelly. The establishment is lined with a variety of neon signs, one of which is a four-bladed windmill that rotates. The prized portion is designed by Betty Willis, which writes the name in large cursive block with exaggerated waves indicating excess and seduction.
How much can a handful of letters be worth? The sign was sold in 2004 for $2.1 million. Even though the signage has been dismantled, the view of the hotel and casino on a dark night will continue to be remembered.
The bright lights of a metropolis
Hong Kong is known for its bustling city life and staggering building structures. Ads, stores, and signs demand your attention from 360 degrees and there comes the importance of creative sign design services. Amidst this jungle of commerce, businesses compete to stand out. A restaurant called Sammy's Kitchen is a steakhouse that's one of many eateries in the area.
To set itself apart, the outline of an Angus cow with a characteristically large, gentle eye frames the business' name. To emphasize the western influence on its dishes, the english name takes up most of the space, while the chinese characters rests inconspicuously below. The sign is so beloved, a museum of art, M+, has advocated for its preservation.
What's Vegas without the neon lights?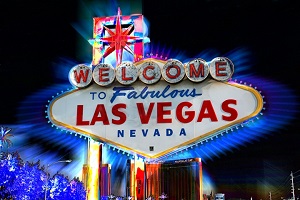 There are many signs in Las Vegas, and some have remarkable stories that any tour-guide would be eager to share. The signs have such an effect on local business that there's even a museum dedicated to collecting and displaying them. Clark county has made much money over the years from the local industries. The bright lights play a part in the vibrant night life, which attracts tourists across the globe.
The most famous sign of all might be one also designed by the talented Betty Willis. It's known as the 'Welcome to Las Vegas' sign. It's well associated with a city that in a recent year made 9.4 billion in gambling revenues and 6.3 billion in gaming revenue.
Lori J Sanders was born and raised in Toronto. She has been a proponent of business education, investing, a self-help author and a motivational speaker. She operates on her own blog and she speaks up on whatever that comes to her mind about finance, investment, mortgage renewals. With various real-estate investments, she retired at the age of 46. But she still continues to operate external business ventures and various investments. For more information, follow her on twitter.