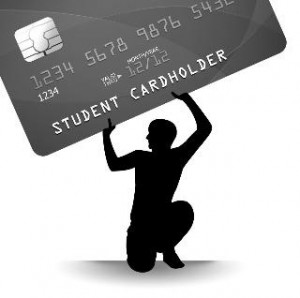 Credit Cards are a great way for students to build their credit, pay for their school supplies and save money. There are so many different kinds of credits cards that it may seem overwhelming to choose which one is best for you. The key to finding the right credit card is determining what you are looking to gain from having a credit card.
Ask yourself the following questions:
Do I need a credit card to make large expenses that I otherwise cannot afford?
Are rewards or cash back options important to me?
How is my credit history currently?
Asking these questions will make it easier to determine which credit card is best for you.
There are three main types of credit cards that most banks and financial institutions offer:
Low Interest Credit Cards are ideal for students who expect to carry a balance on their credit card
In other words, if you need to make a large purchase, such as, text books, but cannot afford to pay for your textbooks in one payment, you would purchase the text books with your credit card. This enables you to make smaller payments monthly on your credit card. Every month that you are making payments on your credit card, you will be charged interest. So you'll want to find a low interest credit card to save you money.
Rewards or Cash Back Credit Cards are great for students looking to build their credit and save money
These credit cards typically have a higher interest rate, so you would want to avoid carrying a balance. However, if you have the funds available to make your purchases, instead of using your debit card or cash, use one of these credit cards. You can pay off the balance before you are charged interest (usually within a month), saving you money, building credit, and receiving cash back or rewards on purchases you would already make.
Secured Credit Cards are ideal for students with a poor credit score or a lack of credit history
Many students who have never had loan payments before do not have the credit history to show that they can keep up with their monthly payments. This makes it difficult to get approved for the other credit cards mentioned above. The Secured Credit Card enables them to build their credit score and history. Secured Credit Cards usually have smaller spending limits but are generally easier to be approved for.
Additional tips for finding the right credit card for students.
Many financial institutions will have credit cards specifically for students. These credit cards may have lower interest rates or higher rewards and cash back rates on school purchases.
Financial institutions will also offer incentives for using your credit card. For example, if you have a checking account and credit card with the same bank, the bank may waive your monthly checking account fees every month you make a purchase with your credit card. Ask questions during your credit card application process to receive the full benefits of having a credit card.
Devin Finley is a freelance writer and tax relief expert. Devin writes on a multitude of financial and legal topics. He enjoys collaborating and strategizing with other professionals to ensure tax & debt clients receive competent and beneficial representation. For more information Visit http://optimataxrelief.com/