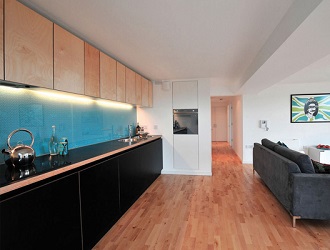 New kitchens are pricey and when you decide it is time to upgrade this room in your house, you need to look carefully at your lifestyle and the rest of your decor to see what you need. Although you can always make small changes after your kitchen is fitted, the basic units, shape and style will probably be with you for quite a few years, so you need to get it right.
How much time do you spend in the kitchen?
Are you a keen cook or are you more of a 'bung it in the microwave' sort of person? If you only stay in the kitchen long enough to warm something through and stick in on a plate, then an ultramodern kitchen would probably suit you best, because you won't want to be spending hours cleaning somewhere you hardly use. In this case, you need to look at features such as easy-clean splashbacks, moppable floors and accessories and appliances that won't show fingermarks.
This means that stainless steel is probably not for you, but glass splashbacks and enamel finishes on appliances and gadgets will suit you well because an occasional wipe with a damp cloth will do the trick.
How big is your family?
If you have a big family or you always have a houseful of guests, a more traditional kitchen would probably suit you best. If your kitchen is big enough for a lovely big table, a farmhouse kitchen would be a lovely addition and you can use it as a work surface as well as for eating and also crafts, homework and all the other family things.
Wooden doors and work surfaces look wonderful and are also warm and welcoming, but many people decide to mix and match when fitting a farmhouse kitchen, with easy-care work tops in glass or Formica and glass or stainless steel splashbacks that mean one wipe brings back the good looks. Tile and natural materials are attractive but a little high maintenance.
Old or new house?
It doesn't really matter whether your house is old or new because everyone understands that the kitchen has to be practical and work for you. An old kitchen in a new house works slightly less well than the reverse, but even so it can look great, especially if it is a big room or is perhaps linked to a conservatory area used for dining.
If the kitchen is part of an extension, incorporating a lot of light will give even an older design a modern look and using glass splashbacks to reflect the light will give even more light in the room. It is more important to think of ergonomic design than anything else in a kitchen and the lighting is a vital element of that.
Lighting can make or break a kitchen design
Many people make the mistake when fitting an older style kitchen of fitting 'retro' lighting as well, but almost always decide afterwards that this was not a good idea. No matter whether the kitchen is classic farmhouse, French distressed or ultramodern, it has to be well lit or there will be accidents and also a lot of strain on the cook. It isn't an anachronism to have spotlights in an old-style kitchen, it is common sense. They can be hidden under units so that the design doesn't jar but wherever they are placed, they must give clear, glare and shadow free light to all working areas.
Use of glass splashbacks and work surfaces to increase reflected light also make the kitchen brighter to work in. If there are shadowy areas in doorways and throughways this can be very dangerous in a kitchen where there may be spills and so this must be avoided.
Room for luxuries?
Everyone has a different idea of what constitutes a kitchen luxury. Gadgets would be the choice of many and if this is your choice too then you need loads of work surface so you can display your favourite blenders, coffee makers, hotplates and what-have-you; you need something ultramodern. If you are more of a chat person, having room for a sofa or chair would probably be your idea of bliss; farmhouse retro would be far more up your street.
Andrew loves to write about home decorating ideas and enjoys keeping fit by playing tennis and golf.