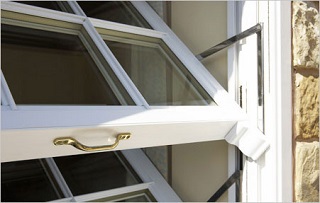 With spring time upon us many people dread the thought of having to clean their windows. Has anyone else had mixed feelings when the sun has shone for the first time in 2014? The delight and hopeful feelings that Spring is on the way, coupled with the dread of realising that the sun shows up all the dirt on windows, dust on sills and book cases, and signals a general 'end of hibernation'? This is the reason why the spring is such a popular time to purchase new windows because it's one job that seems impossible to tackle – properly cleaning old windows.
Regular and thorough cleaning of your windows will ensure you get the optimum usage out of windows. However whilst cleaning you must remember to ensure your own safety first, keep both feet firmly on the ground at all times and do not overreach.
Your home is your haven and many of us desire style and elegance, and what better way to incorporate these ideas than with traditional sash windows. People get the impression that sash windows are expensive in regards to energy costs and that perhaps PVC windows are more cost effective. You are wrong, as in fact they are fairly equal in terms of energy efficiency, therefore you can indulge in your traditional sash windows and not lose out financially!
Sash windows can be the perfect choice to make your house a more functional and aesthetically pleasing structure. It has an elegant design with the capabilities to promote proper ventilation and prevent injuries for people walking past! However, to keep them looking brand new will require some time and effort from you.
Step 1
If you decide to clean your sash windows yourself, you should start off by drawing up the upper sash so it is at a comfortable height, as it will be then at an easier height to clean. Many sash windows are fitted with simple timber parting beads or a hinge system. If so, then both inner and outer faces of the sash can be cleaned from within the building so you won't need to climb the walls outside! Whilst cleaning you should try and thoroughly inspect your windows as this will enable you to keep up to date with any problems that may occur. If you are in any doubt then of course you can always hire a professional window cleaner!
Many homeowners think the easiest way to clean sash windows is either by splashing it with a bucket of water with a diluted detergent or using high pressure water sprays – both will do more harm than good! Dust and dirt can be accumulated in small gaps between the wooden casing and the glass itself.  If dust/dirt has been left long enough to have settled on the space for a very long time it may harden, resulting in difficulty opening the panes (this may be why they are often stiff to open and close!). Once this happens, you might have to replace the windows completely, so in order to avoid that expense you should always first dust your windows with a clean and dry cloth.
Step 2
Unfortunately, even when you've dusted your windows, dust can still originate in hard to reach places, in order to remove this dirt use a vacuum with a small nozzle or a brush with small and soft bristles – and don't forget to open or slide the panels to reach both sides!
Step 3
When selecting what products to clean your sash windows with, always steer clear of harsh cleaning products such as bleach. Don't panic that you'll not be able to find anything as successful – you can remove dirt and grime just the same by using mild disinfectants, and without causing any damage! In fact, you can even make your own non-toxic cleaning solution by using common household items such as vinegar. If you want to do this, start by diluting 1/4 cup vinegar with one or two cups of water and pour the mixture in a spray flask – a teaspoonful of soap will make the ingredients bubble! If you're anything like me then you won't want the sour smell of the vinegar in your home then you can replace it with half a cup of lemon zest – which I personally prefer, the smell is much nicer, and it works just as well!
Step 4
Once you've made your mixture (or bought it) spray onto the windows and use a clean cloth to wipe with. Be careful with the material of the fabric as some sash windows are more delicate than others, and this means that some cloths can actually scratch the window's glass. Remember to wipe the glass in one motion only, so if you are going from left to right, do this until you covered the entire window pane only wiping in one direction. Don't wipe in both directions, as you'll be spreading the dirt around. Wiping in one direction only prevents the accumulated dirt on the cloth from contacting the glass again.
Cleaning sash windows doesn't have to be hard so don't be put off if you don't have sash windows yet, make sure you talk to professional sash window specialists as they are there to help you choose the right panes for you that are easy to clean and maintain
Some do's and don'ts
We may think that cleaning a window is a simple and ordinary task, but when you're cleaning sash windows it can become slightly more complicated! Take a look at these tips to ensure that you don't damage your windows in the cleaning process:
Avoid washing the windows with any type of high pressure sprays, guns or hoses
Evade leaning out of the window to clean the exterior glass surface & putting yourself in any dangerous positions!
Do not use the screen for support or retention when you are trying to lean because the screens will not prevent you from falling
Try not to use aggressive or highly abrasive cleaners or solvents on the glass surface
Clean both sides of your glass with any popular glass cleaner and a soft cloth or paper towel – paper towels are excellent in avoiding smears!
Continuously wash the frames and sashes with a soft cloth, sponge or ordinary long-handled soft bristle brush
For best results, try and avoid cleaning glass in direct sunlight
Bio: Karen is the landlord of a gorgeous listed cottage and gets really excited about properly caring for the property and maintaining its authenticity! Mighton Products' Heritage Range enable the maintenance of her feature sash windows without having to use unapproved products, which she absolutely adores.