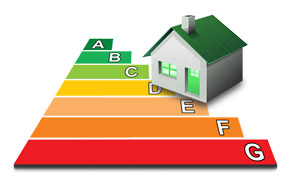 Energy Performance Certificates have been required for factories, offices, retail premises and public sector buildings since April 2008, for properties larger than 50m2 which contain fixed services that condition the interior environment, whenever these properties are sold, let, or constructed. The certificates grade a building in terms of its energy efficiency, from A down to G, with A being the most efficient and G being the least efficient.
People looking at renting or buying a property can then assess either how much work/expense will be required to improve their ratings, or will be better able to gauge how much they are likely to have to spend on energy bills if they take the property. There has been no requirement for buildings to achieve any particular rating, the classification has been primarily for availability of information for potential tenants or buyers. For further info on the regulations, read the Royal Institute of Chartered Surveyors fact sheet.
2018 Revisions
In 2018, the EPC requirements are going to have much more of an effect on commercial property. In fact, it seems that the upcoming revisions to the EPC regulations are already starting to affect sales or leases of commercial property. From 2018, all commercial property will be required to meet an Energy Performance Certificate grade E or above.
Effect on Commercial Sales
Now, if you're looking at selling your commercial property and it currently is classified lower than grade E, your buyers could be put off by the work that will be required in order for the building to comply with regulations in 2018. Additionally, if your EPC was awarded 5 years ago or so, you should be aware that modern ratings are a lot more accurate, so buildings which may have been awarded a particular grade in the past could now be awarded a different grade, be it higher or lower. Don't be fooled in to thinking you're safe with an E grade, as it could turn out to be lower under a new EPC inspection.
It is recommended therefore that you get your building re-certified, potential buyers can then be reassured of the reliability of the current certificate. Furthermore, why not invest in improving your EPC rating in advance of the sale, it could boost interest in your property as buyers become savvier to the upcoming revisions. Also, if for whatever reason you don't have as speedy a sale as you would like, at least you've invested for the building's future, whether that's under your reign or under a new buyer?
Effect on Commercial Leases
You may think that if you're leasing commercial property that the changes won't affect you for a while so you can put off thinking about it. You would be wrong! Not only have you now only got 4 years to recertify your premises, seek advice on how to make improvements, budget for work to be done, and arrange with any existing clients about when the work can be done on the premises whilst they're in situ – you also need to consider whether any potential tenants may be put off by this very factor.
Existing or potential tenants are likely to be put off by the prospect of ongoing works that could affect the running of their business.
Don't bury your head in the sand. Establish the facts now. Do you need to make improvements? How much will it cost? How long is left on your current tenants' lease, and is there a break clause within the next 4 years? If you discover your tenants are planning to leave, use the notice period to book in the work for making the improvements, thereby giving yourself more ammo with which to attract new tenants, i.e. 'the premises are undergoing Energy Efficiency work prior to the date of your lease, so you'll be the first to benefit from the cleaner and more efficient work space, and reduced energy bills and wastage, with no disruption to your work!'
What's next?
It is currently estimated that 17% of commercial properties will not be suitable for inhabitancy from 2018. Furthermore, if it is decided that the new revisions will also classify 'E' grades as unfit for purpose, the figure could rise to 35% of commercial properties!
Whilst more metropolitan hubs' EPC ratings are slightly higher on average, such as in London, Cambridge, and Manchester, it is nonetheless an issue which will affect businesses across the nation, even in advance of 2018 as people prepare for the revisions.
Efficient lighting is one of the most obvious ways to improve your EPC rating, so that's a good place to start!
Bio: Barker Storey Matthews are one of the largest independent commercial property firms with offices in Cambridge, Huntingdon, Peterborough and Bury St. Edmunds. Director, Mark Critchley works from the BSM Cambridge Office and specialises in valuations, rent reviews and lease renewals of all forms of commercial property.