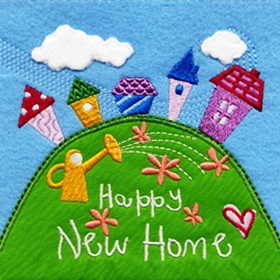 How many times have you said it's a new year so it's a new me? (Guilty!) It's the perfect opportunity to lose a few pounds, set yourselves resolutions or go for a new hairstyle or look. So why not give your home the same refreshing treatment?
New Year is the perfect time to embrace a new look, and there's plenty to inspire in the latest decor trends – we all seem to crave neater, cleaner, and more alluring homes. Around the first of the year this heightened desire can probably be attributed to our homes looking a little sparse after all the festive decorations come down and everything looks bare and tiresome.
No matter what the reason is for you – here are a few ideas to revive your home and welcome the New Year into your life with some serious style. Budget permitting, you could opt for a total makeover, but even indulging in a few simple, fresh touches will give rooms a lift – that is an ideal and inexpensive way to experiment!
Get creative with colour
Nothing adds more instantaneous drama and pizzazz to your room's entire decor more than colour. If you love pale colours and soft neutrals, look away now – as many of us are living in a beige world! Nothing will spark your room's makeover faster than a lick of colourful paint, adding ambience and spice to any room. If you have wooden floors then have you thought about either adding a new, or replacing the old, worn rug? Try new textured rich coloured rug (try plum or burgundy?) to add depth and warmth to your cold wooden flooring.
No matter how long you've lived in your home, it's always fun to shake things up a little bit – and what better time to think about giving one, two or even three rooms in your home a brand new makeover. A new appearance will undeniably have a positive impact on every single person who lives in your home.
Shake it all about
Don't be afraid to move things around in your home, yes new furniture definitely gives an instant lift, but if you are on a tight budget there is nothing stopping you from rearranging the existing furniture to give it a new lease of life. Have you considered transferring pieces from one room to another? Have you tried angling your larger furniture pieces? Reupholstering that chair or sofa will do the trick, sometimes it's the small changes that can make the biggest impact.
Firstly you need to clear out the mass of clutter you have collected over the previous year and organize your belongings – be ruthless, if you haven't used it or worn it in the last six months then get rid of it! Once that is done, the easiest way to get a fresh new look for your home is to simply rearrange what you already own. Search your house for items that you feel may be suited better to a different room or re-purposed for a new use, you may even be pleasantly surprised with the results, a completely new look, on a very tight budget!
Any Ideas?
If you do have the odd penny to spare on pieces then invest in warm and snugly throws as you can toss one over a sofa or chair and they not only spread extra colour over your seating, but provide warmth, too. If throws aren't your thing then why not try adding a couple of new snazzy pillows? You can buy these fairly inexpensively or you could even get creative and re-cover your existing pillows in new fabric! Nothing updates a sofa or chair more quickly than a pillow…or two or three! Simply by layering pillows of different shapes and sizes you will create a completely different feel and look to your piece of furniture.
If you have shelves, or pieces of furniture that are littered with books, if you organize the bindings of the books by colour it will not only look bright and cheery, but like a modern gallery too!
Curtains are undoubtedly one of the quickest ways to revamp any room, as heavy dated curtains collect years' worth of dust and debris adding age to any room. Why not replace them with some modern blinds or bright, light curtains, this will allow the light into the room making it appear more spacious and open.
Accessories are a fantastic way to jazz up any home – especially if you're on a budget. Once you've thought of your colour scheme, why not add photo frames, an oak wall mirror, delightful candles and pictures to add colour and a homely feel to your property – why not go all out and go for new door knobs for your doors to add a touch of extra glamour.
Unfortunately, improper and inadequate room lighting is very common. Very few things can revitalise our spirits on dingy, rainy days like a home's interior immersed in warm light. In fact, good artificial lighting is proved to have a hugely positive effect on people's moods, and for some illnesses it is considered a preventative medicine. When you are thinking about developing a lighting plan, firstly take stock of what types of activities you enjoy in each of the rooms that you're considering making over, for example if you want a snug area for reading late at night then you don't want any bright, harsh light.
It is very much a case of out with the old and in with the new. Give your skirting boards a quick lick of paint to give a room a little lift, adding some colour and vibrancy without spending days redecorating – who wants to spend their weekends painting their bedroom walls? Fresh flowers are always something that I insist on in my house, at least once a week I will buy fresh flowers for the kitchen, they bring life, fragrance and colour – and more importantly only cost me £3 a week!
So, if a few rooms in your home are crying for a facelift, or even if you feel your whole home needs a revamp, then there's no better time than now to start. Not only you, but your family and your home will definitely benefit from a brand new look!
Bio: Karen loves nothing more than creating a house into a home and making it her own when it comes to decorating. She enjoys having a bit of luxury in every room and her pieces of oak furniture definitely bring that to her home. Karen has a few places where she visits when purchasing furniture, a personal favourite of hers is Homeward Bound Interiors.