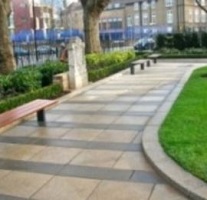 Your company's outdoor space can be transformed into a garden haven for your staff, clients and visitors. As long as the space is maximised fully and each of its features have been properly considered and professionally installed, you'll be able to enjoy this space all year round, regardless of the weather.
When it comes to creating an outdoor area for your workers, there is huge scope for design. If you're snowed under with ideas but don't really know where to start, here's a guide to what you really need to consider (and the features that are likely to add a real 'wow' factor to your venture).
Seating
Every outdoor space must have an adequate seating area so that guests can sit outside comfortably. Besides the typical table and chairs set up, seating areas can be made to look more informal with the introduction of benches, deck chairs, stools and hammocks.
Remember, if you plan on installing a barbecue area for staff to enjoy in the summer months, you must ensure that your seating area is situated at a suitable distance so that people will not be smothered in smoke whilst they sit and eat.
Weatherproofing The Space
You can never rely on the weather, especially here in Britain, so it is strongly advisable to think about what you can do to weatherproof your outdoor space. Firstly you should think about installing a canopy or gazebo area so that guests can take shelter during windy or wet weather.
Another fantastic addition to any commercial outdoor space is a patio heater. These days there are plenty of patio heaters to choose from, including electric, gas and infrared varieties. All three heaters work in the same manner but infrared versions are more eco-friendly, as unlike their gas and electric counterparts, these heaters only kick into life when someone walks in front of it.
Outdoor patio heaters are also particularly useful for smoking areas and are commonplace in pubs and restaurants.
Lighting
When it comes to your lighting setup, the choices available. Spot lights, fairy lights, focal lights, torches and electric candles can all be perfect additions to a commercial outdoor space, though they must be placed correctly to ensure any wires or fittings are not exposed to the elements.
For long outdoor spaces, focusing a spot light on the furthest point shows the depth of the space and is good frame of reference for guests. If you have tall or large trees in the space then consider placing two focal lights either side of them so their evergreen beauty is lit up from various different angles.
If your outdoor space is quite large and needs a lot of lighting then consider using low voltage or energy efficient lights such as LEDs. Putting your lights on timers is also another great way to save money by making sure the lights are only in use when they need to be.
Sound
Waterproof speakers are the perfect addition to any corporate garden or outdoor environment, especially if it's an area that's going to be largely used for conferencing or entertaining. Wi-Fi sound systems are also increasingly popular in outdoor spaces as they are largely wireless. The great thing about Wi-Fi sound systems is that anyone can connect to them and play music from their own device.
The fire pit as a focal point
Fire pits are also a great addition to any practical outdoor area. As well as providing a lot of heat, they also make an excellent focal point and have the ability to create a warm and inviting atmosphere regardless of the temperature or time of year (always remember safety, though!).
As long as you carry out adequate research and consider all of your options before deciding on a final design, creating the perfect commercial outdoor space is easy. If co-ordinating the project seems far too much of a challenge, be sure to get in touch with a professional landscape designer, who will be able to introduce you to new ideas and arrange the entire installation from start to finish.
Jon Barrett is a founder of Landscope Gardens, a landscaping design company that specialises in commercial gardens amongst all kinds of other garden installations. He is also an outdoor lighting specialist.