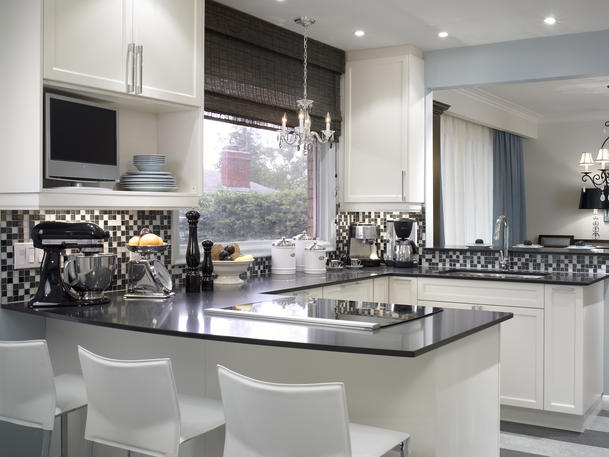 If you need to upgrade your kitchen, it is normal to feel a little daunted. There is so much choice and so many different suppliers. How do you choose? Take a deep breath and have a look at our six-step guide to kitchen happiness, and hopefully things will seem a much easier!
Assess Your Space
Look at your kitchen. What are its key qualities? Is it light and bright or a bit dingy? Look at the details – what is the state of the floor and the ceiling? Are there curtains for the windows or blinds? Consider everything and assess, with brutal honesty, what you are working with and what must change. Write this down.
Be Practical
What actually happens in your kitchen? Is it just a space for preparing food or a social or dining area as well? What equipment is essential and what would be nice? Rank these items in order of importance and consider where they would fit in your new kitchen.
Be Inspired
Get hold of some interior design or cookery magazines (which are good for pictures of dream kitchens), look at some of the many interior design websites. Gather pictures of kitchens, or kitchen elements, which inspire or appeal to you. It doesn't matter if it's the kitchen in a stately home or the food mixer in a two-bed semi, if it appeals to you, print or cut that picture out. Stick the pictures in a scrap book, leave them for a couple of days, and then come back to them.
Now examine the pictures, identifying any recurrent elements or themes. Consider how these can be applied to your actual kitchen. You may need to use some creative thinking, but it is generally possible to adapt the most cutting-edge design ideas into a modest or 'unsuitable' space.
Go Shopping
Online or in person, look at what suppliers have to offer. Whittle your list of potential suppliers down to three or four.
Get Talking
Speak to each of your potential suppliers, explaining your ideas (don't forget to consult with your family!). Ditch any supplier who ignores what you say you want and tells you what you should want. Decide which supplier seems most suitable, based on their approach to the job, past work and pricing.
Start Planning
When you have identified a favourite supplier, ask them to visit your kitchen to discuss the refit, so that they can provide Kitchen Design ideas and costs as appropriate. Hopefully, you will be well on your way to your dream kitchen at this point, but if not then never forget that you are the customer and that it is completely acceptable to ask for quotes and plans from other potential suppliers.
Article by Sally Bunce.