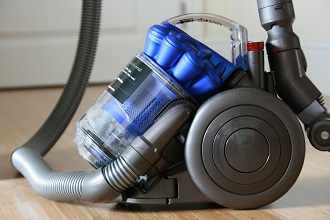 Dyson, a company that has prided itself on producing some of the most innovative vacuum cleaners on the planet for over twenty years now, made an announcement last week that will no doubt put a smile on the face of lazy homeowners everywhere: the company will be investing 5 million pounds (or about 8 million dollars US) over the next five years to develop new robotics technology, as part of a collaboration with Imperial College London.
The company has dabbled in robotics research for the majority of its existence, but while the marketplace brought forth fully robotic vacuum cleaners like the Roomba, Dyson, the company many people view as the most technologically forward company making vacuum cleaners, seemed almost stubbornly determined to focus their efforts on human-operated machines.
However, the 5 million pound investment and the partnership with Imperial College London are both clear indicators that the company is finally serious about the idea of getting into robotics. According to Jason Hope, having a company like Dyson fully dedicate them to robotics research demonstrates that the company could be on the verge of producing some truly remarkable new technology.
"Doing Technology Well"
"Dyson is a company that's always been about doing technology well," said technology entrepreneur Jason Hope. "It was never enough for them to just introduce a new idea or a new technology: it had to be head and shoulders above anything that came before it, or they wouldn't even waste time attaching their name to it. The fact that they seemed nervous about getting into robotics in the past tells me that the really great, high-concept ideas just weren't there. Now, with this new investment, they may be showing all of us that they're really ready to go after those kinds of ideas, that's very exciting for the field of robotics."
While the idea of a fully robotic vacuum cleaner that can compete with Roomba and others like it may be one of the most exciting concepts that the investment promises to deliver, the main focus of the company's work with Imperial College London will actually be in robotic vision systems. These new systems will be designed to help the robots of the future see things in a way that more closely matches the way human beings see them.
The new technology could have applications ranging far beyond the field of vacuum cleaners. For instance, on production lines, a robotic quality assurance system could provide a level of quality that far exceeds that offered by human inspectors.
Academic Alliance
The British company is no stranger to working together with Imperial College London, one of the premier science and engineering universities in the United Kingdom. The alliance between the academic institution and the business institution demonstrates the fact that the research produced will not solely be about making a better product, says Mr. Hope.
"Of course, there has to be some business reasoning behind Dyson's decision to make this investment, but at the same time, the fact that they're working with a prestigious university like Imperial College London demonstrates the fact that it's not all about a quick payback for them. The company clearly understands that universities are often the source of innovative new technologies, and they're looking to tap into that, even though it may mean that they're not going to see the direct benefits of these ideas for many years to come."
While the company did specifically mention that they have a business interest in producing robotic vacuum cleaners, the research they will be doing with Imperial College London is strictly about producing a better robotic vision system. This research is something that would be important to a robotic vacuum cleaner, but also something that could have wide-ranging applications outside of home cleaning products. According to Mr. Hope, the fact that Dyson doesn't limit itself is an important part of what make the company what it is.
"Dyson is not the type of company that's just going to work hard on the exact ideas that they think can sell," said Mr. Hope. "I think it's safe to say that the research that comes out of this partnership will end up producing a better all-around robot, not just a better robotic vacuum cleaner."
About the Author: Amy Taylor is a technology and business writer. Amy began her career as a small business owner in Phoenix, Arizona. She has taken that knowledge and experience and brought that to her unique writing capabilities. She really enjoys new business related issues that are tied directly to technology.