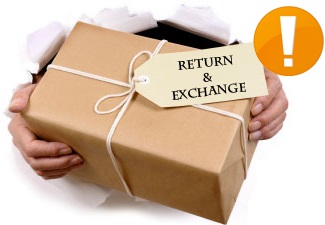 Operating an e-commerce site is a great way to make a living and promote products that you believe make a difference in someone's everyday life.
However, understanding how to maximize your site and convert visitors to a sale is a delicate dance.
Oftentimes, e-commerce website operators overlook small details that can make a huge difference in their bottom line.
One of the best ways to avoid costly mistakes on your e-commerce site and make your customer interactions more user-friendly is to provide an easy return policy.
Create an Easy Return Policy
If your goal is to gain customer trust, increase sales and make your site more user-friendly, you need to create a rock-solid customer return policy.
If someone is considering purchasing your product, they want to be assured that your company is going to stand behind the purchase should something go wrong with the product after purchase, or if they find that the product isn't what they thought it would be.
Make Customers Feel Comfortable About the Online Purchase
Customers are often apprehensive about purchasing a product online that they cannot hold and touch. What if they do not like the product? What if it does not fit?
To return a product to a store is usually a simple thing. You can just walk up to a customer service counter, hand them a receipt, and get your money back.
However, for many e-commerce sites, return policies are simply too much trouble.
If you do business with an e-commerce site and have a problem, you will very likely not do business with them again. If you have a difficult return process, you will definitely never do business with them again.
In order to ensure that your e-commerce site does not cause your customers to have headaches when they need to return something, there are several elements you will need to incorporate to make your customer return policy an effective and easy process.
Easy Return Policies are the Key!
First and foremost, make your return policy easy for the customer by explaining your return policy in easy to understand terms on your site.
Secondly, be specific about the allotted time your customers have to return your item. Being vague can cause confusion and frustration.
For example, if you say that customers have two weeks to return an item, that could mean any number of things. Two weeks from purchase? Two weeks from delivery? Do they have two weeks to begin the return process, or does it have to be completed within two weeks?
Third, be lenient about the terms under which your clients can return an item. Basically, if they are not satisfied for any reason, they have so many days to return the product for a full refund.
Zappos.com is one of the best examples of a great online return policy. You have up to a year to return their shoes, and because it was an online purchase and can be tracked, you never need a receipt.
The return shipping is completely free and you can print your return label right from the site.
Jason Kane has been working in e-commerce for the last five years but has been a consumer all his life.