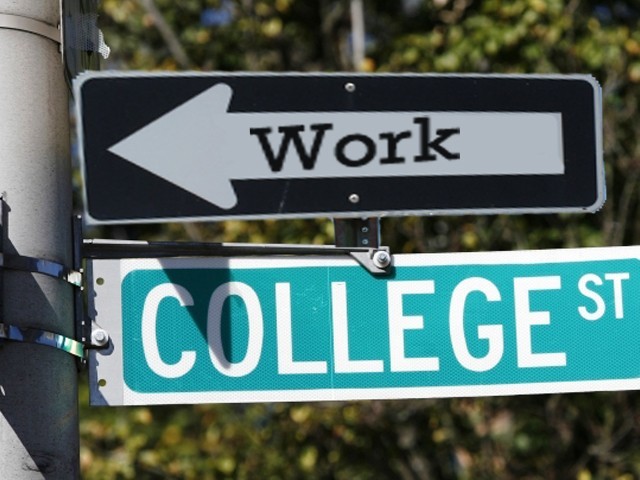 By the time you get to university, you probably have a pretty good idea what you can afford to spend and how much you have to live on. You may also be coming to the rather frustrating conclusion that you're going to have to take a job at some point.
So, what are the main advantages and disadvantages of working while you are attending university?
Working, study and student life
If you've drawn the conclusion by now that it's a job or beans for the next three years then you're going to have to be savvy with your spending, with your time and with your student life. It's important to draw a balance between working, having fun and studying.
The disadvantages of working as well as studying can be off-putting but may be essential. There are pros and cons to working while studying and here are a few of the key points to consider:
You could struggle to keep up with your studies while you work
You may have to stay up late to catch up with your studies and this is going to leave you feeling exhausted with no time left for friends
Your ability to juggle both study time and work time may be compromised by the flexibility of both your employer and your tutors
You may have out-of-classroom activities that are not factored into your study time. Field work or trips out have to be accommodated somewhere and work may have to suffer
However there are some advantages to working and studying:
The extra money you earn while working and studying may allow a lifestyle you couldn't afford if you didn't take this route
Some students have too much time on their hands, some of your timetables over the next 3 years may be fairly slack and work will give you something to do
You will gain valuable experience in the workplace which you can add to your CV. With fierce competition in the workplace this could give you an advantage, especially if this is in your area of study
Challenges
So there are some pros and cons to consider before you decide to juggle work and study. In some cases you may not have the choice. If you do find yourself in this position, talk to the students in your group as they're more than likely to understand. If you explain they may even be willing to take notes in your absence if you miss a tutorial or lecture. Plan well and you can balance work, study and play. It will have its challenges but it might be the one thing that gets you through university.
It's important to remember that even if you do decide to work part-time or full-time, some institutions don't allow it, so check before you decide. Most universities completely understand your need to work while you study. University fees have risen significantly, with funding almost non-existent in a lot of cases.
Decisions, decisions
You can make this work, weigh up the pros and cons and then decide. Only you know what your financial situation is going to be once you've totted up the loans, funds and savings you'll have. If you're finding it hard to decide, then talk to a student advisor or your friends and family.
Jenny Wright has just completed her English degree and balanced both part-time work and study for three years. She's eager to help students who may be facing the same challenges as she did. She writes articles for Vita Student in her spare time.